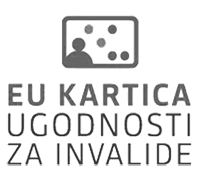 Free tickets for the concert are available at the Križanke Box Office.
Vivijana Rogina, violin
Sae Lee, piano (Japan)
Matija Raičević, clarinet (Serbia)
Duško Švonja, piano (Serbia)
Programme:
L. van Beethoven: Violin Sonata No.9 in A Major, Op. 47, »Kreutzer«
***
R. Schumann: Three Romances, Op. 94
A. Berg: Four pieces, Op. 5
L. Bassi: Concert Fantasia on motives from Verdi's opera Rigoletto
Vivijana Rogina began her musical education at the age of five at the Velenje Music School with Prof. Danica Koren and continued her studies at the Conservatory of Music and Ballet in Ljubljana with Prof. Tatjana Špragar. In the academic year 2020/21, she graduated from the Academy of Music in the class of Prof. Vasilij Meljnikov, with whom she is currently pursuing her master's degree in violin. Most recently, she was awarded the title of overall winner at the 2018 Antonio Salieri Competition in Legnano. In 2020 she was awarded the Prešeren Prize of the Academy of Music, and the Berneker Plaque for artistic activity in Carinthia for her performance of Mendelssohn's Violin Concerto and other extensive concert activities. She has performed several times as a soloist with orchestras, for the first time at the age of eight with the String Orchestra of the Velenje Music School, in 2017 with the Cantabile Symphony Orchestra and Sarasate's Zigeunerweisen, and in 2019 she performed Wieniawski's Concerto Polonaise with the same orchestra in the Gallus Hall of Cankarjev dom, and the concert was repeated in Logatec. In 2019, she auditioned for solo concerts with professional orchestras, and performed the Mendelssohn Violin Concerto with the Slovenian Radio and Television Symphony Orchestra conducted by Caterina Larsen-Maguire at the Slovenian Philharmonic in March 2020. In 2022, she auditioned for solo performances with orchestras and will perform Beethoven's Violin Concerto in the upcoming Academy of Music concert season. She has also participated in various master classes and seminars with professors Christophe Poiget, Igor Ozim, Wonji Kim, Vesna Stankovic, Nanezhda Tokarieva, Sihana Badivuka, Martyn Vink, Nahman Sluchin, and Lana Trotovšek.
"Sae Lee is one of the most sought-after collaborative pianists of her generation. Her ability to interact with other musicians with exceptional instrumental and artistic level captivate audiences." (Mainich newspaper)
She appeared at important festivals and events such as Piano festival Enghien (France), International conference Nevada-Semipalatinsk organized by Kazakhstan government & UNESCO and Japanese National TV program Classic-club. As soloist she performed with a number of orchestras worldwide including the Sofia Philharmonic, Kansai philharmonic and Slovenian philharmonic orchestra. Her collaboration is not only with musicians but also with well-known ballet dancers like Aurélie Dupont (director of Paris opera ballet) and Kevin O'Hare (director of The Royale Ballet).
After studying at the University of Music TOHO-Gakuen, Continued her studies of Piano and Chamber music at the Conservatoire National Supérieur de Musique de Paris with Michel Beroff and Eric Le Sage. In June 2007 and 2008 she graduated with the highest marks. She was a winner at many national and international competitions, including the International Competition of Citta di Padova, the International Piano Competition of Albert Roussel. Sae is currently employed at the Ljubljana Academy of Music.
Matija Raičević was born in Novi Sad and began playing the clarinet at the age of seven at the Isidor Bajić Music School in her hometown. From the very beginning he showed a lot of love for music and the clarinet, and quickly developed his talent under the watchful eye of Đuro Pete, which was soon reflected by his results in the first competitions he took part in, as he won the top prizes. As a result of his exceptional progress he completed primary and secondary school two years early.He is currently a first year master's student at the Ljubljana Academy of Music under Tadej Kenig, and a first year master's student at the City of Basel Music Academy under François Benda. Matija regularly enters competitions for young musicians, in which he has so far won more than 30 prizes. Three times he has been a laureate at the Republic competition in Belgrade, twice a laureate in the Anton Eberst international competition in Novi Sad, he won the golden plaque at the Emona international competition in Ljubljana, and was also successful in the Woodwind & Brass Competition in Varaždin, and the Davorin Jenko Competition in Belgrade. He has also participated actively as a member of the chamber ensemble, with which he has won many first prizes. As a promising young clarinettist he has had the opportunity to perform in Hungary, Italy, Belgium, Slovenia and Croatia. As member of the Symphony Orchestra, Matija has collaborated with a range of conductors such as Igor Coretti Kuret, Gerardo Estrada and Catherine Larsen-Meguire, and attended seminars with internationally renowned professors such as François Benda, Olivier Faure, Nikola Srdić, Bela Kovacs, Wenzel Fuchs, Gabor Varga and other.
Pianist Duško Švonja was born in Novi Sad and began playing the piano at the age of seven in the Josip Slavenski Primary Music School under Ivana Branovački and Iris Kobal. He later continued his training at the Isidor Bajić Secondary Music School and during his time there he also attended a special school for young talents "Nulta Grupa", which was founded at the Academy of Arts in Novi Sad in cooperation with the Academy of Music, in the class taught by Jokut Mihajlović. In 1998 he enrolled in the Academy of Performing Arts in Bratislava, graduated in 2001 under Tatiana Franjova, and two years later obtained his master's in the same class. As a student he was supported by grants from the Open Society Institute. He also attended masterclasses with renowned teachers such as: Kemal Gekić, Jokut Mihailović, Tatiana Franjova, Konstantin Bogino, Falvay Šandor, Kerek Ferenc, etc. He has been active as a concert pianist since 1998. Duško has performed in Austria, Italy, Hungary, Slovenia and in 2003 he succeeded in performing the whole opus of sonatas for four hands by W. A. Mozart in cooperation with the Slovak pianist Martin Tomek. He is currently working as a piano teacher and répétiteur for the wind department of the Isidor Bajić Secondary Music School in Novi Sad.