View video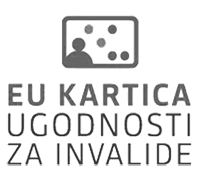 Note: This information pertains to a past event. For the most up-to-date information, please check
our calendar
.
Free tickets for the concert are available at the Križanke Box Office.
Vid Ibic, piano
Arijan Mačak, saxophone (Croatia)
Sae Lee, piano (Japan)
Programme:
R. Schumann: Carnaval, Op. 9
***
J.-D. Michat: 5 visions amoureuses
N. Šenk: Impetus
V. David: L'éveil de la toupie
Vid Ibic is a 20-year-old pianist from Koper. He began his musical career at the age of six in the class of Prof. Valentina Češnjevar. He continued his studies with Prof. Selma Chicco Hajdin while also attending a preparatory course at the Graz University of Music and Performing Arts with Prof. Zuzana Niederdorfer, where he will complete his undergraduate studies this year. So far, he has won twenty-seven prizes at national and international competitions, including ten absolute first prizes. His major awards include first prize at the Zlatko Grgošević International Piano Competition in Zagreb, golden plaque and first prize at the Slovenian National TEMSIG Competition in 2016, 2019, and 2022, winner of the Young Talents Competition in Gorizia in 2019, winner and fifth prize at the International Piano Competition in Canada in 2021 and winner of third prize at the Nomea International Piano Competition in 2021. He regularly hones his skills in summer schools and piano seminars with renowned musicians. He has made several recordings in the professional studios of Radio Koper and PianoRoom, performed as part of the RTV Young Virtuosi series and the ARS Sonore Festival in Graz, and participated in the Maribor Summer Nights with a solo concert. He also performed as a soloist with the orchestra in Graz, with the international youth orchestra IPSIA and with the Slovenian Philharmonic. In the 2022/2023 school year, as part of EPTA, he performed 8 solo recitals in Slovenian music schools in the Pianissimo cycle. In 2019, he was selected as a Young Hope in the Zavarovalnica Triglav project, and since 2020 he has been a scholarship recipient of the Ministry of Culture.
Arijan Mačak is a young saxophonist who began his musical education at the Matija Peter Katančić Music School in Valpovo, and continued it at the Franjo Kuhač Intermediary Music School in Osijek (Croatia) under the mentorship of Prof. Mirek Hrženjak. He is currently a second-year student of the master's programme at the Ljubljana Academy of Music in the class of Miha Rogina. During his studies he participated in many music festivals and competitions, such as the Saxophone Festival in Valpovo, as well as the International Varaždin Woodwind & Brass Competition, Aeolus in Düsseldorf, Saxgo in Nova Gorica, TEMSIG in Slovenia and the Papandopulo Young Musicians' Competition in Zagreb, where he achieved good results. In 2022, he won the first prize and a golden plaque in the highest category at the TEMSIG competition. As a soloist he has performed in concerts with the Chamber String Orchestra of the Franjo Kuhač Music School, the Slovenian Philharmonic String Chamber Orchestra as part of the Harmony of the Spheres concert series, and with the Slovenian Philharmonic Orchestra. As a member of various chamber ensembles and orchestras, Mačak has performed throughout Slovenia and abroad, including concerts organised by the Ljubljana Festival (Young Virtuosi), the Academy of Music (Solo e da camera), GML (Meet Me at the Magistrat), and at the Biennale Koper. In 2018, he performed with the Saxophone Orchestra at the World Saxophone Congress in Zagreb. As part of the Trittico Project, he toured Slovenia, Italy and Austria in autumn 2021. He also participated in the Slowind Spring Project with the Slovenian ensemble Slowind. In 2021, he was appointed the first saxophonist of the Saxophone Ensemble of the Ljubljana Academy of Music.
In June 2022, he gave a solo recital at the Lent Festival (Maribor). Mačak also regularly participates in master classes and seminars with world-renowned professors such as Vincent David, Claude Delangle, Lars Mlekusch, Jean-Denis Michat, and Simon Diricq, among others.
"Sae Lee is one of the most sought-after collaborative pianists of her generation. Her ability to interact with other musicians with exceptional instrumental and artistic level captivate audiences." (Mainich newspaper)
She appeared at important festivals and events such as Piano festival Enghien (France), International conference Nevada-Semipalatinsk organized by Kazakhstan government & UNESCO and Japanese National TV program Classic-club. As soloist she performed with a number of orchestras worldwide including the Sofia Philharmonic, Kansai philharmonic and Slovenian philharmonic orchestra. Her collaboration is not only with musicians but also with well-known ballet dancers like Aurélie Dupont (director of Paris opera ballet) and Kevin O'Hare (director of The Royale Ballet).
After studying at the University of Music TOHO-Gakuen, Continued her studies of Piano and Chamber music at the Conservatoire National Supérieur de Musique de Paris with Michel Beroff and Eric Le Sage. In June 2007 and 2008 she graduated with the highest marks. She was a winner at many national and international competitions, including the International Competition of Citta di Padova, the International Piano Competition of Albert Roussel. Sae is currently employed at the Ljubljana Academy of Music.