Bassoonist Božidar Tumpej, who was born in 1929, touched many hearts over the course of a long and fruitful career. He began his musical training at a young age in Ptuj and went on to study in Graz, Ljubljana and Belgrade. He graduated from the Faculty of Music in Belgrade in 1954 and received his master's degree there in 1970.
He began performing both at home and abroad while still a student. He so impressed the Swiss conductor and teacher Victor Desarzens at the Festival of Modern Music in Bayreuth in 1953 that the latter invited him to Switzerland, where he became solo bassoon of the Lausanne Chamber Orchestra and began teaching at the city's conservatory of music. In 1958 he had the honour of taking part in the first performance of Paul Hindemith's Octet. He returned to Belgrade in 1962 and took up the position of first bassoon of the Belgrade Philharmonic. Twenty years later, he moved to Slovenia and was employed until his retirement as first bassoon in the orchestra of the Slovene National Theatre (SNG) Opera and Ballet in Ljubljana and as a professor at the Ljubljana Academy of Music, where he taught bassoon and chamber music.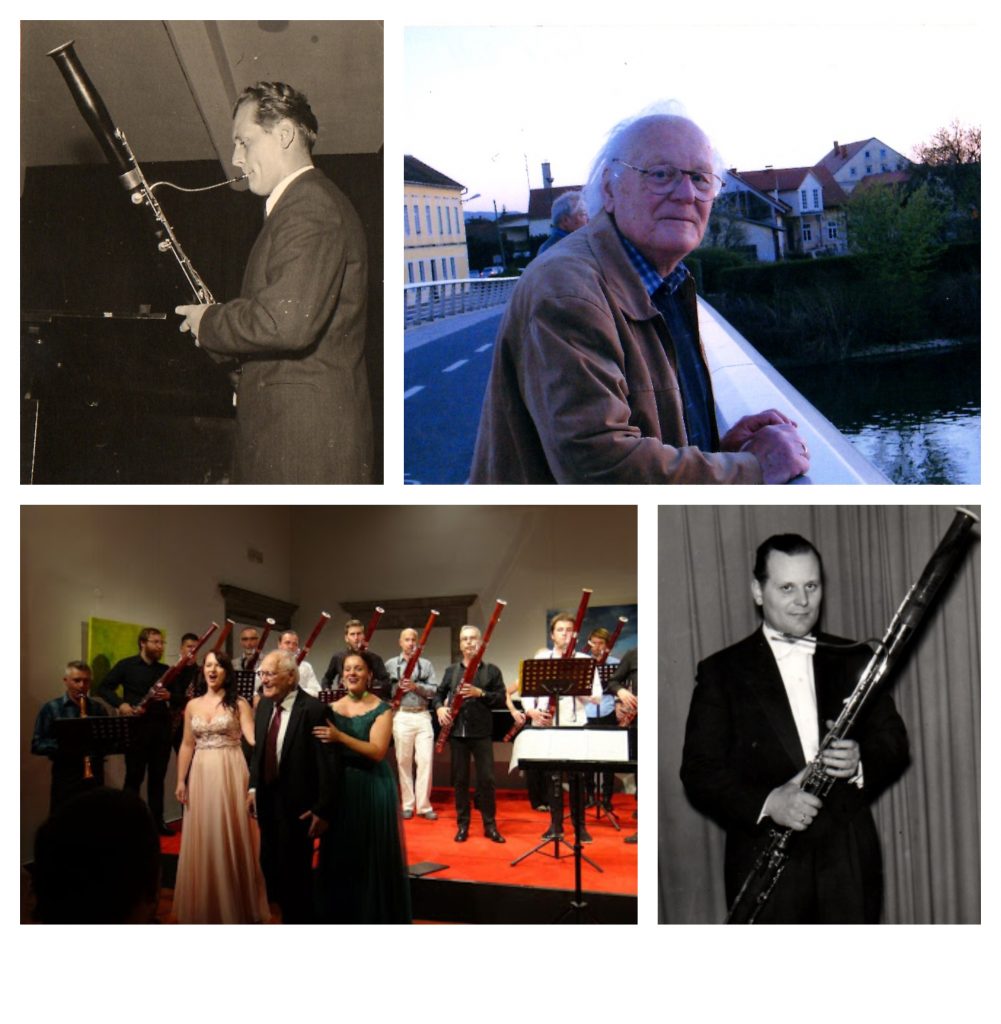 Over the course of his artistic career, he performed with many world-famous artists, including Yehudi Menuhin, André Lardrot, David Oistrakh, Paul Hindemith and Charles Dutoit. He performed as a soloist with the Belgrade Philharmonic, the Lausanne Chamber Orchestra, the Maintz Chamber Orchestra, the Dubrovnik Symphony Orchestra, the RTV Slovenia Symphony Orchestra and many others. He received numerous accolades for his work. In 1954, while still a student, he came second at the prestigious ARD International Music Competition in Munich. In 1970 he received a special prize from the Society of Musical Artists of Serbia for the best concerto performance in the 1969/70 season, while in 1976 he won the prize for the best recital of the season. In 1981 the Belgrade Philharmonic awarded him its golden emblem.
Božidar Tumpej also left a significant mark through his teaching. His students are acclaimed chamber and orchestral musicians who are active in a variety of symphony orchestras, radio orchestras and opera orchestras both in Slovenia and abroad. He was mentor to, among others, Dušan Sodja and Tatjana Kaučič of the internationally known duo Claripiano and bassoonist Zoran Mitev. In September his former students organised a concert for his ninetieth birthday in conjunction with the Ljubljana Festival.