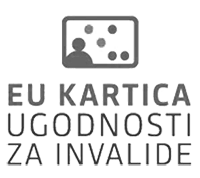 Note: This information pertains to a past event. For the most up-to-date information, please check
our calendar
.
Free tickets for the concert are available at Križanke Box Office.
Valentina Lučković, cello (Serbia)
Uki Ovaskainen, piano (Serbia)
Anja Ovaskainen, violin (Serbia)
Uki Ovaskainen, piano (Serbia)
Programme:
N. Myaskovsky: Cello Sonata No. 2 in A minor, Op. 81
D. Popper: Hungarian Rhapsody, Op. 68
D. Shostakovich, arr. L. Atovmyan: Prelude from 5 Pieces for Two Violins and Piano 
***
W. A. Mozart: Sonata for Violin and Piano No. 26 in B-flat major K. 378
C. Debussy: Sonata for Violin and Piano in G minor L. 140
M. Ravel: Tzigane
Valentina Lučković, born in the Serbian city of Niš in 2001, began learning the cello with Ljubiša Radisavljević in 2011. In 2017 she was accepted into the School for Musically Gifted Children in Ćuprija under Nevena Busarac. In 2018, as part of a trio, Valentina embarked on a seven-day tour of China, representing the school at three concerts in Shanghai and Nanjing. In May 2022 she performed with the world-renowned violinist Nemanja Radulović as a member of the Foundation Dobar Glas Chamber Orchestra. As one of the three highest-placed candidates, Valentina received a school scholarship from the Académie Française for participation in the Bastille Day Project. In April of this year, as part of celebrations marking Belgrade Day, Valentina performed with violinist Stefan Milenković and the Belgrade Chamber Orchestra at the Kolarac concert hall. She has performed as a soloist with Niš Symphony Orchestra, the Orchestra of the School for Musically Gifted Children and Camerata Balcanica under the direction of maestro Srboljub Dinić. As orchestra member and soloist, she has performed in Serbia, Montenegro, Albania, Croatia, France, Italy and China, and studied with musicians including Stefan Popov, Denis Shapovalov, Attila Pasztor, Alexey Kiseliov, Dejan Božić and Marko Miletić. She is currently a third-year undergraduate at the Belgrade Faculty of Music, studying under Dragan Đorđević.
Anja Ovaskainen, born in 2004 in Belgrade, began playing the violin at the age of seven under Professor Biljana Stevanović at the Dr Vojislav Vučković Music School. She has been a student at the Academy of Arts in Novi Sad under Professor Robert Lakatoš since October 2022. She has been a member of the ArtLink Orchestra for several years, and in 2018 took part in concerts devoted to the music of Vivaldi with the Viva Vivaldi chamber group in Rome. She played in the Styriarte Youth Orchestra under Andrés Orozco-Estrada and Mei-Ann Chen in 2021, 2022 and 2023. She is currently in the second year of secondary-level vocal studies under Maja Djokić at the Dr Vojislav Vučković Music School and the recipient of several first prizes at competitions in Serbia. She has won first prizes at the Premio Mozart Competition in Quinto Vicentino, at national competitions, at Stringfest in Sremska Mitrovica, at the Tartini International Competition in Slovenia, and at the Dušan Protić Memorial Competition, as well as third prizes at a Classical Music Competition in London. She has attended masterclasses and courses given by distinguished teachers and musicians, including Roman Simović, Nemanja Radulović, Stefan Milenković, Robert Lakatoš, Vesna Stanković, Eszter Haffner, Savely Shalman, Magdalena Szczepanowska, Daniel Rowland, Irina Muresanu, Marko Serino, Ana Lebedinski, Dragutin Mladenović, Tatjana Simonović and Uki Ovaskainen. In 2023 she took part in the IMUKO Chamber Music Festival in Koblenz, Germany, where she also attended chamber music classes and concerts given by musicians that included Anna Fedorova, Benedict Kloeckner, Kirill Troussov, Alexandra Troussova, Phillippe Graffin, Nicholas Schwartz and Osvaldo Ferreira.
Uki Ovaskainen was born in 1975 in the Finnish city of Espoo. He studied at the famous Sibelius Academy in Helsinki and the Royal Danish Academy of Music in Copenhagen, graduating with distinction. He went on to complete postgraduate studies at the University of Music, Drama and Media in Hannover, and has won prizes at a number of international competitions. He performs as a soloist and chamber musician throughout Scandinavia and in Germany, Austria, Israel, Spain, Russia, Serbia and Croatia. Since 2001 he has worked as an accompanist in the strings department of the University of Belgrade's Faculty of Music.