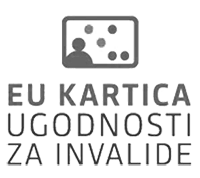 Note: This information pertains to a past event. For the most up-to-date information, please check
our calendar
.
Free tickets for the concert are available at Križanke Box Office.
Sara Hartman, horn
Rebeka Dobravec, piano
Manca Fekonja, jazz solo
Peter Mandelj Mejač, jazz guitar
Aleksander Črtalič, jazz drums
Jakob Istenič, double bass
Programme:
T. Madsen: Sonata for Horn and Piano, Op. 24
F. Strauss: Empfindungen am Meere, Op. 12
J. Francaix: Divertimento for Horn and Piano
***
S. Joy: Sweet Pumpkin
N. Wilson: Guess Who I Saw Today
V. Swift: A Little Taste
C. Amiee: Well You Needn't
S. Vaughan: Poor Butterfly
V. Swift: I Want To Get Happy
Sara Hartman, born into a musical family in 2001, began playing the horn at the age of seven. She began under the tutelage of Boris Dvoršak at the Maribor Conservatory of Music and Ballet, where she also continued her secondary-level music training. She won first prize at the Woodwind & Brass International Competition in 2019. A year later she successfully auditioned for a place at the Ljubljana Academy of Music under Boštjan Lipovšek, graduating with distinction in June 2023. She is currently in her first year as a master's student. She regularly attends classes given by renowned horn players such as Christian-Friedrich Dallmann, Szabolcs Zempléni, Andrej Žust, Mahir Kalmik, Viktor Kirčenkov, Zoltán Szőke and Johannes Hinterholzer. She has performed as a soloist with Leibnitz International Rotary Orchestra and the KUD Pošta Maribor Wind Orchestra. In October 2022 she auditioned successfully for the position of honorary second horn with the RTV Slovenia Symphony Orchestra. In March this year she was awarded first prize and a gold plaque at the TEMSIG Competition.
Rebeka Dobravec, born in 2000, began her musical studies under Eva Kozlevčar and Tadej Horvat. In 2018 she passed her entrance exams for the Ljubljana Academy of Music with a perfect score, since which time she has been studying under Tatjana Ognjanovič. She regularly performs as a soloist and as a member of various chamber ensembles. In 2016 and 2020 she performed as part of the Ob klavirju series, with her performances also being broadcast on the ARS radio station. She has been a member of the TRN Piano Trio with Neža Nahtigal and Tara Korica since 2019, performing within the Solo e da camera, Jeunesses Musicales Stage and Jeunesses Musicales Ljubljana concert series. The trio came second at the Virtual International OPUS 2021 Competition, and reached the semi-final of the Ilmari Hannikainen 2023 international competition in Finland. They have also performed in Brussels, Vienna and Italy (as part of the Nei Suoni Dei Luoghi Festival 2023). Since 2021 Rebeka has also collaborated with bass-baritone Dimitrij Savić, with the duo winning second prize at the International SGSM Competition in June 2022 in the Lieder category. Later the same year, they gave several concerts as part of the Glasbena matica Ljubljana, Jeunesses Musicales Ljubljana and Simfonic Voices series. Her considerable musical achievements led to her receiving a multi-year City of Ljubljana scholarship in 2018.
After completing general gimnazija studies, Manca Fekonja, who was born in 2001 in Ljubljana, enrolled in the Ljubljana Faculty of Social Work, where she is currently in her third year. Alongside her studies at the faculty, she also attends the Ljubljana Conservatory of Music and Ballet, where she is studying jazz singing. Between the ages of six and sixteen she was a member of the RTV Slovenia Children's Choir. Her love of singing led her to join the Youth Choir after that. Inspired by her grandfather's love of jazz, she began singing lessons with Lea Bartha Pesek while a Year Nine primary school pupil. She has worked as a backing vocalist for Gal and Severa Gjurin, and contributed her own compositions to concerts. She performed her song Zvezda  at the 2021 edition of the Melodies of the Sea and the Sun Festival. She has performed at Cankarjev Dom's Club  and at Kavarna Slamič with pianist Manca Udovič and her Romanca ensemble. The two musicians released their song Včasih  this year. Manca is a member of the jazz quartet Petnajst čez, which performs at jazz clubs around the capital. The other members of the quartet accompanied her at the 2022/23 TEMSIG Competition, where she came first. The quartet also comprises Peter Mandelj Mejač on guitar, Aleksander Črtalič on drums and Jakob Istenič on double-bass. In addition to the quartet, Manca is also part of the larger Soul Exchange ensemble, which she joined earlier this year. They play jazz funk, R&B jazz, soul as well as their own compositions.