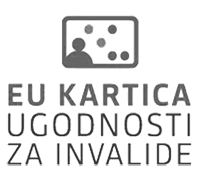 Free tickets for the concert are available at the Križanke Box Office.
Nada Tavčar, mezzo-soprano (Italy)
Luca Sacher, piano (Italy)
Ondřej Zavadil, piano (Czech Republic)
Programme:
L. M. Škerjanc: Beli oblaki (Li Taipo, O. Hauser, P. Karlin)
L. M. Škerjanc: Jesenska pesem  (Li Taipo, O. Hauser, F. Kozak)
M. Kastelic: Nekje ob Soči 1916 (I. Pajnik Beguš)
M. Vasle: Proč me vabi misel nate (N. Konc Lorenzutti)
R. Strauss: Allerseelen (H. von Gilm), Op. 10 No. 8
J. Brahms: Von ewiger Liebe (J. Wenzig), Op. 43 No. 1
X. Montsalvatge: Punto de Habanera (N. Luján)
Canción de cuna para dormir a un negrito (I. Pereda Valdés)
J. Massenet: »Va! laisse couler mes larmes«, Charlotte's aria from Werther
G. Bizet: »L'amour est un oiseau rebelle«, Carmen's aria from Carmen
***
L. Janáček: (Piano Sonata) I. X. 1905
R. Schumann: Fantasie in C major, Op. 17
Mezzo-soprano Nada Tavčar began her singing career in the village of her birth, Devin, in the Ladjica children's choir. She later joined the girls vocal group Bodeča Neža, in which she sang under the guidance of choirmistress Mateja Černic. Starting in 2014, she studied solo singing at the Ljubljana Conservatory of Music and Ballet under Tatjana Vasle and completed her studies this summer. In 2017 she sang in the Italian young people's choir (Coro giovanile italiano) for the first time, and in 2019 she was again selected to sing in the choir for the next three years. In 2019 she won a golden award at the national TEMSIG competition in her category. In 2021, Nada recorded a CD of English romantic songs called The Fairy Way with the girls' choir DPZ Igo Gruden. She also collaborated with the orchestra Amadeus Adriatic Orchestra in two productions: La memoria di Medea and Stabat mater: storia di una madre (Pergolesi). In March this year, she won first prize and the golden plaque in the 3.a category at the TEMSIG competition. In addition to her musical successes, Nada graduated from the Faculty of Medicine in Ljubljana in 2021.
Luca Sacher was born in 1993 in Trieste, and is a Slovenian-Italian pianist who graduated cum laude from the Tartini Conservatory in Trieste in the class of Igor Cognolato. While studying at the conservatory, Luca Sacher won prizes in various musical competitions, including first prize at the international competition Musica Insieme, and two second places at two international competitions: Piove di Sacco and San Dona' di Piave. Luca won places at the United World College of the Adriatic and the Scuola Superiore del trio di Trieste. Soon after graduating in 2013, he was accepted at the Boston Conservatory at Berklee, where his grant enabled him to study in Michael Lewin's class. In Boston he won four Chamber Music Honors Competitions with four different chamber groups, as well as being a two-time winner of the Piano Honors Competition and the winner of the 2016 Lee Scholarship Competition. A year later Luca, graduated summa cum laude from the Boston Conservatory. Luca continued his education as a J.T. and Margaret Talkington Graduate Fellow at the School of Music at Texas Tech University, where he studied under William Westney. He has already performed in a number of prestigious concert halls such as the Verdi Theatre in Trieste, the Meyerson Symphony Center in Dallas, Seully Hall in Boston, the Curci Theatre in Barletta, the Pavone Theatre in Perugia, and the Teatro Comunale di Monfalcone, and has cooperated with various international orchestras. In 2022 he received a special prize for the best performance of a composition by Scriabin at the Amadeus Piano Competition in Lazise (Italy). Luca was also a member of the jury at the 7th and 8th Allegretto Music Competitions in Bucharest. In the course of his musical career he has been taught by some of the world's most famous pianists, such as John O'Conor, Filippo Gamba, Kirill Gerstein, Alessandro Taverna, Siavush Gadjiev, Ilana Vered, John Perry, Max Levinson, Jonathan Bass and Claudius Tanski. After gaining such rich and very important experience in the US, Sacher decided to continue his career as a musician and music teacher in Trieste. He is currently teaching the piano at the Artemusica music school and is also a lecturer for the non-profit organisation Musicians for the World. In autumn 2022 he will release his first album, which will be dedicated to Debussy.
The young pianist Ondřej Zavadil was born in Prague in 1997. His first teacher was Jana Grygarová, and he was later taught by Libuše Tichá at the grammar school and music school in Prague. Since 2017 he has been a pupil of Milana Chernyavska at the University of Music and Performing Arts in Graz. Ondřej has participated in many international competitions in which he won top places, including 3rd prize at the 16th International Competition for Young Pianists held in Ettlingen, 2nd prize at the Piano Val de Travers and 1st prize at the international piano competition in Radovljica. Ondřej has performed twice with the Prague Symphony Orchestra in the Rudolfinum concert hall, and has perfected his technique in masterclasses held by the likes of Dmitri Bashkirov, András Schiff, Nikolai Lugansky, Eugen Indjic and Matti Raekallio.