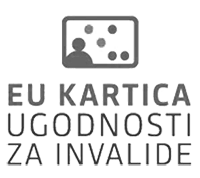 Free tickets for the concert are available at Križanke Box Office.
Luka Ovčjak, euphonium
Katalin Péter, piano
Mia Kristan, percussion
Programme:
T. Kassatti: Kino Concertino for euphonium and string orchestra (reduced piano accompaniment)
R. Boutry: Tubacchanale for for tuba and piano
***
I. Xenakis: Rebonds "A"
C. Deane: Mourning Dove Sonnet
K. Abe: Marimba d'amore
Luka Ovčjak, born in 2001, became interested in music at a very early age, beginning his education at Fran Korun Koželjski Music School in Velenje, where he started playing the euphonium under the tutelage of Miran Šumečnik. Music remained his passion throughout his secondary school years, and he graduated from the arts department of Velenje Gymnasium under Mitja Škorjanc. He has made regular competition appearances as a soloist and member of brass chamber ensembles, winning gold plaques, gold awards and first prizes. In 2020 he also received a plaque for exceptional musical achievements at the Fran Korun Koželjski Music School in Velenje. Throughout his musical career to date, he has attended numerous masterclasses given by internationally renowned teachers and soloists, including Steven Mead, Giacomo Marcocig, Markus Mikusch, Georg Pranger and Bastien Baumet. He is a member of the Zarja-Šoštanj Wind Orchestra, where he has already performed as a soloist on several occasions, and has also taken part in a project at SNG Maribor. He is currently in his first year of postgraduate studies at the Ljubljana Academy of Music under Nejc Merc.
Katalin Péter was born in Kanjiža in Vojvodina. She decided to take up music at a young age and started learning the piano and guitar. She completed piano studies at the Secondary School in Subotica under Marija Sekelj, graduated with a Bachelor's degree in 1993, and two years later obtained her Master's degree under Arbo Valdma at the Academy of Music in Novi Sad. During her student years, she won the first prize in both federal and republican competitions for young musicians in the former Yugoslavia on several occasions. As a soloist she has performed with the Vojvodina Youth Orchestra, the Novi Sad Chamber Orchestra, and the Subotica Philharmonic Orchestra. Katalin has given concerts in all the major cultural centres of the former Yugoslavia (Zagreb, Sarajevo, Belgrade, Ljubljana), as well as in other countries. She has recorded for RTV Novi Sad, RTV Belgrade, and RTV Slovenia, and now works as an accompanist and piano teacher at the Ljubljana Conservatory of Music and Ballet. Katalin has appeared several times as an interpreter of contemporary Slovenian music at the DSS Night of Slovenian Composers. She is also an artistic collaborator of the Academy of Music in Ljubljana, and has been a featured pianist at various music seminars and international competitions.
Mia Kristan first encountered percussion at Tolmin Music School. After completing the elementary music school programme there, she continued her training at the Arts Gymnasium in Koper under the guidance of Mitja Tavčar. Her first CD contained a selection of her work from her time as a secondary-level student at the school. After completing the first year at the Ljubljana Academy of Music under Petra Vidmar, she decided to continue her education abroad, at the Giuseppe Tartini Conservatory of Music in Trieste under Fabián Pérez Tedesco. Alongside her educational commitments, Mia also takes every opportunity to play in various chamber ensembles and orchestras, and has also taken part in numerous national and international competitions. In 2020 and 2023 she was awarded first prize and a gold plaque at the national TEMSIG Competition. She received overall first prize at the International Associazione Melody Competition in Tropei (Italy), in 2022 and overall first prize at an Cittá di Palmanova International Music Competition (Italy) in 2019. She has also undergone further training with Slovenian and foreign teachers, including P. Prommel, S. Tasca, C. Panzl, C. Hessler, T. Koleva, Tchiki Duo and R. Römer. She is already active in transferring her knowledge and skills to young musicians at Tolmin Music School.
Related events