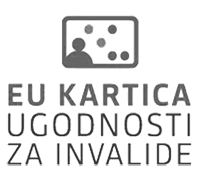 Free tickets for the concert are available at Križanke Box Office.
LETO KRIŽANIČ ŽORŽ, harp
Vito Černko, piano
INES NEDELKOVSKA, piano and harpsichord (North Macedonia)
Programme:
C. Debussy: Danse sacrée et danse profane, L. 103
M. Ravel: Introduction et Allegro, M. 46
H. Renié: Piece symphonique en trois épisodes
***
D. Scarlatti: Sonata in F minor, K. 481
F. Couperin: Les Barricades mystérieuses
D. Scarlatti: Sonata in D minor, K. 141
J. S. Bach, arr. S. Rahmaninov: Violin Partita No. 3 in E major (trans. for piano)
F. Liszt: Paraphrase de concert sur Verdi's Rigoletto, S. 434
V. Nikolovski: Toccata
Harpist Leto Križanič Žorž (2001) has been a regular winner of national and international music competitions since 2007 and has already won 15 first prizes. In 2007, she began her musical career at the Jesenice Music School and continued her studies at the Conservatory of Music and Ballet in Maribor with Prof. Dalibor Bernatovič. At the age of 16 she passed the academy-level test at the Jacopo State Music Conservatory in Udine, Italy, where she completed her harp studies under Prof. Patrizia Tassini. She is currently continuing her musical career at the Mozarteum in Salzburg, where she is studying for a master's degree with Prof. Stephen Fitzpatrick. She regularly attends master classes by world-renowned concert harpists and teachers. With her versatile repertoire she delights audiences in solo concerts, in chamber music ensembles and as an orchestral soloist. As a soloist she has performed with the RTV Slovenija Symphony Orchestra, the Hungarian Mendelssohn Chamber Orchestra, the String Orchestra from Vilnius and the Jesenice Symphony Orchestra. As a member of the orchestra, she has worked with the Maribor Conservatory Orchestra and the Udine Conservatory Wind Orchestra. She is currently working with the Friuli Venezia Giulia Symphony Orchestra and the Ventaglio d'Arpe Orchestra, and she also enjoys working in chamber music ensembles. The general public first got to know her as a finalist in the Eurovision Young Musicians competition in 2018, and the televised St Nicholas's Day charity concert in 2019.  She received financial support from the Young Hopes Fund in 2019 as well as grants from the Ministry of Culture of the Republic of Slovenia. She has been a patron of the Gallus Foundation since 2018¸and recipient of Ad Futura scholarship.
Vito Černko (2000) began his musical career at the age of 12 after discovering a plastic keyboard under his kitchen bench. In 2015, he joined Marjana Vajngerl's class at the Primary Music School Tabor in Maribor and passed the exams for the eight classes of the primary school with distinction the following year. He passed the entrance exam for the Conservatory of Music and Ballet in Maribor in the class of Mag. Lidija Maletić, who recognised his talent. At the same time, he also attended the II. Gymnasium in Maribor. After three years at the Conservatory and passing musical and general matriculation exams, he was accepted at the Ljubljana Academy of Music, where he continues his piano studies with Prof. Vladimir Mlinarič. He has recorded for the Glasbena sozvočja programme at Radio Maribor.  Vito's extensive repertoire ranges from Baroque to contemporary music, with special attention to the demanding Beethoven's piano sonatas. In addition to solo works, he is also devoted to chamber music, where he performs in piano and accordion duos alongside his harp playing.
Ines Nedelkovska is one of the most prominent young Macedonian musicians. She started piano lessons with Nina Kostova at the age of six, and is currently a student at the Todor Skalovski – Tetoec State Music School in Tetovo. To date she has won numerous prizes at international competitions in Monte Carlo, Italy, the USA, France, the UK, North Macedonia and elsewhere. In 2015 she even won two competitions in Italy on the same day (Naples and Corato, Bari). As a competition winner she has earned the opportunity to perform at some of the most distinguished concert halls in the world. After her triumph at two competitions in New York she performed at the Kaufman Music Centre and Carnegie Hall. In 2017, she topped her category at the London Grand Prize Virtuoso International Music Competition and performed at the winners' concert at the Royal Albert Hall. She has also recorded major successes in competitions for young musicians in Bonn, Tokyo, New York, Paris and Astana. Her hectic concert schedule includes several notable entries, such as the invitation extended by the Vladimir Spivakov Foundation to hold three solo recitals in Moscow, and the invitation extended by Vadim Repin to attend the Trans-Siberian Art Festival in Novosibirsk, where she performed with Mohammed Alshaikh and the Yankovsky Junior Symphony Orchestra of the Novosibirsk Music College. Under the guidance of Prof. Nina Kostova, she achieved outstanding success in several international online competitions last year. She won first prize at the International Young Music Talent Competition in Tokyo, Japan; first prize at the International Young Music Talent Competition in New York, where, in addition to winning first prize, she also received an invitation to record in a professional studio in New York; first prize at the Lisbon Stars Competition in Portugal, Nouvelles etoiles in Paris, Silk Way Special Prize in Astana, and first prize at the Baltic Gold Competition. As first prize winner of the Iscart International Music Competition in Lugano, Ines was one of 15 candidates selected from a total of 200 pianists from all over the world who were considered to have great potential for an international career. With this, Ines will be part of the Lugano Academy. On 9 June 2021, she was chosen as Musician of the Week by the international section of Jeunesses Musicales International in Brussels.