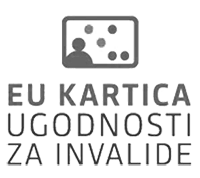 Free tickets for the concert are available at Križanke Box Office.
Kiara Janko, accordion
Anton Sotošek, trombone
Mateja Hladnik, piano
Programme:
B. Šaljić Podešva: Meditation on Closeness
J. S. Bach: Toccata in E minor, BWV 914
S. Mossenmark: Water spirit
***
N. Rota: Concerto for Trombone and Orchestra
L.-E. Larsson: Concertino for Trombone and Strings, Op. 45/7 (reduced piano accompaniment)
D. Schnyder: Rhythm in blue for Trombone and Piano
Kiara Janko, born in 2003, began her musical education at Poreč Art School before moving onto the Elly Bašić Music School in Zagreb. She has so far won more than 30 first prizes at national and international competitions, including first prize, a gold plaque and two special prizes at the TEMSIG Competition in 2023. She also won absolute first prize at the International Competition Contemporary Talent in 2023, performing at the Church of Saint Andrew and Matthew in Colloredo di Monte Albano, Italy, and first prize at the Tomaž Holmar International Music Competition in Malborghetto, Italy. In the same year she also performed as a soloist with the Zagreb Chamber Orchestra at the 62nd Concerts in Euphrasiana in Poreč, at Rovinj Summer Festival and at a concert for the Pro et Contra Festival organised by Pula Music Academy. In 2022, as a finalist in the Virtuosos V4+ Competition, she accompanied the Hungarian Radio Symphony Orchestra in a performance at the Franz Liszt Academy of Music in Budapest. She has also received instruction from internationally renowned musicians including Alexander Skliarov, Iñaki Alberdi, Krassimir Sterev and Stefan Hussong. She is currently continuing her studies at the Academy of Music under Borut Zagoranski.
Anton Sotošek, born in 2000, comes from a music-obsessed family. He picked up the trombone at the age of 12 and began learning it under Franci Arh at Krško Music School. In this period he also achieved outstanding results at competitions in Slovenia and abroad. In 2015 he began at the Maribor Conservatory of Music and Ballet under the supervision of Mihael Švagan, and scored 100 points at the TEMSIG Competition as a member of the Slidezone quartet and later with his own sextet. He has twice received a gold plaque as a soloist at Woodwind & Brass International Competition in Varaždin and at TEMSIG (2016 and 2019). In the same year he appeared as a soloist with Maribor Conservatory Symphony Orchestra after a successful audition. He is a regular member of the Symphony Orchestra of Krško Music School and Krško Wind Orchestra, where he has also taken on the role of soloist on a number of occasions. He also performed in Cankarjev Dom as part of the ad hoc symphony orchestra assembled to mark 200 years of music education in Slovenia. In 2020 he passed an audition to join the Mediterranean Youth Orchestra (MYO). He has also taken part in projects created by the Hofkapelle Baroque Orchestra from Munich and the L'Orfeo Orchestra from Linz, Austria. In 2022 he took part in the ARD International Music Competition, which is held every six years for each instrument and is one of the largest competitions in the world. He has also studied under renowned teachers such as Zoltán Kiss, Gerald Pöttinger, Peter Štuhec, Tomer Maschkowski, Dušan Krajnc, Ian Bousfield, Henning Wiegräbe, Jonas Bylund, Andreas Klein and  Branimir Slokar. He is currently in his second year of postgraduate studies at the Ljubljana Academy of Music under the supervision of Dušan Kranjc. He has also been studying under Jonas Bylund at the University of Music, Theatre and Media in Hannover since 2023.
Mateja Hladnik completed the secondary music school programme in Celje before graduating from the Ljubljana Academy of Music under Janez Lovše in 2003. While a student she spent a semester as an Erasmus exchange student at the Kristiansand Conservatory of Music in Norway. After graduating, she took up a position at Celje Music School as a piano teacher and accompanist at the elementary and secondary levels. She is currently employed as a senior associate and accompanist at the Ljubljana Academy of Music
Related events