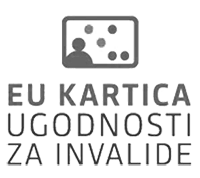 Free tickets for the concert are available at Križanke Box Office.
Gašper Poprijan, tuba
Kristina Golob, piano
Teja Udovič Kovačič, accordion
Programme:
J. Massenet, arr. V. Gionanidis: Méditation from the opera Thaïs
D. Barry: Concerto for Tuba
Ø. Baadsvik: It will be alright (Ordner Seg)
***
G. F. Händel: Suite No. 6 in F-sharp minor, HWV 431
L. Janáček: Our Evenings from On the Overgrown Path
U. Pompe: … miles and miles above my head … (III)
L. Janáček: A blown-away leaf from On the Overgrown Path
D. Scarlatti: Sonata in C minor, K. 22
J. Guinjoan: Sounds of the Earth (Sonidos de la tierra)
Gašper Poprijan, a 20-year-old tuba player, comes from a large musical family. He began learning the trombone at the Fran Korun Koželjski Music School in Velenje under Miran Šumečnik. After three years his teacher encouraged him to switch to the tuba, shortly after which he joined the Zarja-Šoštanj Wind Orchestra. He very quickly entered the first of many music competitions. He has achieved excellent results as a soloist and member of ensembles. His musical journey took him to Velenje, where he completed his secondary-level music education last year under Mitja Škorjanc. He is currently in his first year at the Ljubljana Academy of Music, where he studies under Josef Steinböck.
Teja Udovič Kovačič, recipient of a Prešeren Prize of the Ljubljana Academy of Music for outstanding artistic achievements on concert stages, is completing her accordion studies under Borut Zagoranski. She has also studied under Marie-Andrée Joerger at the Académie supérieure de musique in Strasbourg. She has won multiple competitions, including the Pula International Accordion Competition, PIF Castelfidardo, the International Accordion Festival in Trieste and the Svirél International Competition, and was a winner at the national TEMSIG Competition in 2023, 2020, 2017 and 2011. As a soloist and member of chamber ensembles, she has performed in the Ljubljana Festival, Jeunesses Musicales Slovenia and Jeunesses Musicales Ljubljana concert series, the Biennale Koper Contemporary Music Festival, Ljubljana Academy of Music Solo e da camera festivals, the Festival de Chartres (France), Klasika u Portu (Croatia), ADG Sommerkonzerte (Germany), Pro et contra (Croatia), Summer in Celje, and Variations – A Hommage to Franz Liszt. At the invitation of RTV Slovenia, she recorded a musical portrait for the Mladi virtuozi programme. She was the soloist in the premiere performance of Corrado Rojac's composition Polja VI with the NOVA Filharmonija Symphony Orchestra, with which she also recorded an album. She has also appeared as a soloist with the RTV Slovenia Symphony Orchestra, the Strasbourg Conservatory String Ensemble Ensemble, the Chamber Orchestra of the Coast, the Vladimir Lovec Symphony Orchestra, the accordion orchestras of the Ljubljana Academy of Music and the Maribor Conservatory, and the AccordiOna Orchestra.
Related events