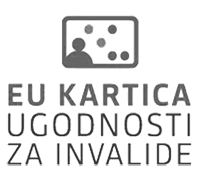 We would like to inform you that the concert, which was planned on 17th February, is postponed to 18th March due to illness. Change of tickets is not necessary. Other interested visitors can still get free tickets for the concert at Križanke Box Office.
Dunja Kalamir, violin
Jovanka Višekruna Janković, piano
Stela Molnar, piano
Laura Llozi, violin
Jovanka Višekruna Janković, piano
Stela Molnar, klavir
Programme:
J. S. Bach: Partita for solo violin No. 3 in E major, BWV 1006
L. van Beethoven: Violin Sonata No. 1 in D major, op. 12
E. Ysaÿe: Sonata for solo violin No. 2 in A minor, Op. 27
***
J. Brahms: Violin Sonata No. 3 in D minor, Op. 108
M. Ravel: Tzigane
C. Saint-Saëns: Introduction and Rondo capriccioso in A minor, Op. 28
Dunja Kalamir was born in Serbia and began studying the violin at the age of three. Her first violin teacher was Biljana Stevanović, who later accompanied her during the ten years she spent in music school. She is currently continuing her studies at the University of Music and Performing Arts in Graz under Vesna Stanković Moffat. Since she was a young girl she has participated in various Serbian and international violin competitions and festivals, where she has won many first prizes and special prizes. She has also collaborated with outstanding violinists and teachers including Nemanja Radulović, Mi-Kyung Lee, Ingolf Turban, Angelo Xiang Yu, Tatjana Rizkova-Dudonova and Arkadij Vinokurov. Dunja also regularly holds concerts with her aunt, a flautist from Belgrade Philharmonic Orchestra, Stano Krstajić and some of Serbia's most famous composers. In 2020 she received an award for most promising young artist in Serbia and she also received a prestigious prize from the association of artists Artlink, where she performs as a soloist and orchestra member
The Albanian violinist Laura Llozi comes from a family of artists. She began playing the violin at the age of five and continued her education at the Art Lyceum in Tirana when she was six. She finished her time at the Lyceum in 2018 with outstanding success in the class of V. Tego. As of 2018 she studies at the University of Music and Performing arts in Vienna in the class of Stefan Kamilarov and as of 2019 she also studies violin with maestro Massimo Quarta. At the age of seven she held her first independent concert in the hall of the National Theatre, Opera and Ballet in Tirana, and has since then performed regularly in numerous concerts and recitals at different venues in Albania. She has been invited to play at international festivals such as the biennial "Nights of Classical Music" in Durrës and the "ArtLink" festival in Belgrade. Laura has received numerous awards in international competitions such as "Këngët e Tokës", "Pjetër Gaci", "Talent of Tirana", "ARS Kosova" and "Eurovision Young Musicians˝. In 2019, she received the first prize at the "Vasco Abadjiev" Competition in Sofia, and in the same year, Council Chairman Mr. Aldrin Dalipi honored her with "Gratitude of Tirana County". Laura is also playing first violin in the ArtLink Balkan Young Virtuos sextet, with which she has performed in many concerts in Belgrade and Berlin. Since 2012 she has been the youngest member of the Albanian Youth Orchestra, the Tirana Philharmonic and the European Spirit of Youth Orchestra and the Orchestre des Jeunes de la Méditerranée with which she has performed in different countries under the batons of A. Ceccato, P. Heras-Casado, G. Corti, J. M. Ferrano and I. Coretti. With a repertoire that extends from Baroque music to 21st-century music, Laura has performed in a large number of concerts as a soloist, in chamber music and orchestras in Albania, Italy, France, Germany, Austria, Serbia, Macedonia, Portugal, The Netherlands, Bulgaria, etc.
Jovanka Višekruna Janković, pianist, graduated from the University of Arts in Belgrade with a master of arts degree.  She completed her postgraduate studies at the Franz Liszt Music Academy in Budapest in the class of Lazlo Baranyay, and participated in numerous masterclasses and workshops of famous pedagogues and pianists. She has performed a number of times as a soloist with many orchestras and at numerous recitals and multidisciplinary projects in her home country and abroad. After working as an assistant professor of piano at the Faculty of Music in Belgrade for a number of years, and as the Vice President of the Young EPTA (European Piano Teachers Association) of Serbia, in 2004 Jovanka Višekruna Janković founded the ArtLink association of artists. Dedicating a considerable amount of her time and energy to promoting young talents from Serbia, Ms Višekruna Janković established the annual "ArtLink Most Promising Young Artist Award" for the best musicians from her country in 2005. In 2013, Jovanka Višekruna Janković established the international ArtLink Festival in Belgrade. In 2015, after years of work promoting cultural cooperation, Ms. Višekruna Janković was elected President of the Serbian Festival Association, the member of European Festival Association. In the following year she was elected as a member of the EFA Board and ArtLink was appointed the EFFE Hub for the Western Balkans in the EFFE project run by European Festival Association. She is also the founder of the Regional Chamber Music Orchestra – Camerata Balcanica. For her outstanding work and dedication to promoting cultural cooperation, Ms Višekruna Janković was awarded a Knighthood in the Order of Arts and Letters of the French Republic in 2017 (Chevalier de l'Ordre des Arts et des Lettres).
Stela Molnar was born in Novi Sad, Serbia in 2001. She went to the Isidor Bajic Music School in Novi Sad, and attended the class of Olga Borzenko. She has participated in numerous national and international competitions, including the Sirmium Music Festival (1st Prize), International Competition Sonus in Croatia (1st Prize), National Competition in Serbia (1st Prize), and New Music Days in Austria (1st Prize). In 2017 she played a concert with the ArtLink chamber music orchestra in Belgrade City Hall. In 2019 she played a solo concert in Novi Sad City Hall as a part of the World Piano Conference. She has also participated in many masterclasses and courses, such as those taught by Anna Ulaieva, Zoltan Fuzessery, Lovre Marušić, Sofia Glimson, Irena Kofman, Yuri Kot, Natalia Troull, Sontraud Speidel, Andrej Jasinski, and Anna Malikova. She won a Stipendium for gifted musicians in both 2019 and 2020. In 2020 Stela Molna started her bachelor's studies at the University of Music and Performing Arts (KUG) in Graz, Austria, in the class of Prof. Ayami Ikeba, and in 2021 she joined the class of Prof. Aima Labra-Makk.