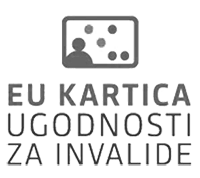 Free tickets for the concert are available at Križanke Box Office.
Ana Mir, horn
Stefan Pajanović, piano
Opifex String Quartet
Nikola Pajanović, violin
Laura de Wolff, violin
Rebeka Skok, viola
Sara Čano, cello
Programme:
L. Lebič: In voce cornus
A. Wilder: Sonata No. 3 for Horn and Piano
E. Bozza: Sur les Cimes
***
C. Debussy: String Quartet in G minor, Op. 10
Ana Mir began her musical journey at Škofja Loka Music School under the tutelage of Igor Maroševič and, later, Alojz Kompan. After six years of elementary music education, she went on to study at the Ljubljana Conservatory of Music and Ballet under Metod Tomac. After completing her second-level education, she enrolled at the Ljubljana Academy of Music, graduating in June 2023 in the class of Boštjan Lipovšek. She took part in an Erasmus exchange in the 2022/23 summer semester at Trossingen State University of Music under Saar Berger. In October 2023 she will embark on a master's degree at the Mozarteum in Salzburg under the joint supervision of Matías Piñera  and Boštjan Lipovšek from the Ljubljana Academy of Music. She has received many prizes and awards at national and international competitions, including a silver award at the TEMSIG Competition with the horn quartet Et Cetera in 2019. In 2020 and 2023 she was awarded first prize and a gold plaque at the national TEMSIG Competition. She plays in various chamber ensembles and orchestras in Slovenia and abroad, including the Slovenian Philharmonic Orchestra and the RTV Slovenia Symphony Orchestra.  In May 2021 she auditioned successfully for the Ljubljana Opera Orchestra. In April 2022 she was one of the soloists for a performance of Helmut Lachenmann's My Melodies for Eight Horns and Orchestra  by the Slovenian Philharmonic Orchestra. She regularly attends classes given by renowned teachers such as Radovan Vlatković, Johannes Hinterholzer, Dale Clevenger, David Cooper, Sarah Willis, Markus Bruggaier, Szabolcs Zempléni and Saar Berger.
Stefan Pajanović, born in 1996, began playing the piano at the age of five under the tutelage of Lilijana Žerajić. He has won numerous prizes, including first prize three times in a row at the ARS NOVA International Music Competition in Trieste. He won second prize at the Euritmia International Competition for Young Musicians in Italy in 2009, following this up with first and second prizes in 2011. He won a silver plaque at the TEMSIG Competition in 2007, followed by a gold plaque and third prize in 2010. From 2011 to 2015 he was a student at the Ljubljana Conservatory of Music and Ballet in the class of Lidija Malahotky Haas. His musical development during this time was confirmed by prizes won at the Povoletto Competition in 2014, the Jurica Murai Memorial in Varaždin in 2015, and the TEMSIG Competition in 2013, where he was awarded a silver plaque. He continued his studies at the Ljubljana Academy of Music in the class of Jasminka Stančul, and studied at the University of Music and Performing Arts in Munich in the 2018/2019 academic year as part of an Erasmus exchange. Last September, he performed as a soloist with the RTV Slovenia Symphony Orchestra. He has honed his piano skills at seminars and summer music schools with renowned and world-renowned pianists and teachers, such as Ruben Dalibaltayan, Aleksandar Madžar, Konstantin Bogino, Markus Bellheim, Aleksandar Serdar and others. In 2020 and 2021 he was an accompanist at maestro George Pehlivanian's Summer Opera Academy and has also collaborated with SNG Opera Ballet Maribor. He is currently employed as an accompanist at SNG Opera and Ballet Ljubljana.
The Opifex Wind Quartet comprises violinists Nikola Pajanović and Laura de Wolff, viola player Rebeka Skok and cellist Sara Čano. They also perform as a piano quintet with pianist Peter Bubola. The ensemble's artistic director is Aleksandra Čano Muharemović. The members are currently part of Emil Cantor's class at the Ljubljana Academy of Music. Their first concert was held at the hall of Radovljiška graščina, and they have also played at the Portorož Auditorium. They played with Tadej Kenig at Festival Ribnica, performing Dvořák's American Quartet,  Carl Maria von Weber's Quintet for Clarinet and Strings  and a Song for String Quartet and Clarinet  by Nina Šenk. They were selected for the Jeunesses Musicales Ljubljana concert series Ob klavirju,  performing Schumann's Piano Quintet in E-flat major  at the Slovenian Philharmonic Hall. In March 2023 they took first prize and a special commendation at the TEMSIG Competition for their interpretation of Krzysztof Penderecki's String Quartet No. 3.  First violinist Nikola Pajanović graduated from Ljubljana in June 2023 and is currently pursuing further studies at the Royal Academy of Music in London. Sara Čano graduated in cello from the University of Music and Performing Arts in Munich and continues her studies at the Academy of Music in Ljubljana, where Rebeka Skok and Laura de Wolff are also pursuing their studies.
Related events
7
10th Concert of the 31st International Music Cycle Young Virtuosi
7.00 pm
Knights' Hall Križanke
14
11th Concert of the 31st International Music Cycle Young Virtuosi
7.00 pm
Knights' Hall Križanke