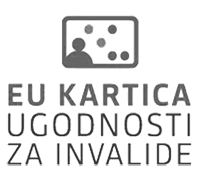 Free tickets for the concert are available at Križanke Box Office.
Ana Birsa Krušec, recorder
Eva Dolinšek, harpsichord
Antea Poljak, mezzo-soprano (Croatia)
Viktor Čižić, klavir (Croatia)
Programme:
J. S. Bach: Flute Sonata (trans. in D minor), BWV 1030
L. Lebič: From Od blizu in daleč
Otroci ukleti v ptice
Godec pred peklom
***
G. F. Händel: »Lascia ch'io pianga«, Almirena's aria from Rinaldo, HWV 7
H. Wolf: From Italianisches Liederbuch, IHW 15
Wenn du, mein Liebster
Nein, junger Herr
Mein Liebster singt am Haus
P. Eben: Summer is come (from Six love songs)
G. Fauré: Les berceaux, Op. 23, No. 1
G. Fauré: Rencontre, Op. 21, No. 1
G. Meyerbeer: »Non, vous n'avez jamais«, Urbain's aria from Les Huguenots
F. A. Barbieri: »Como nací en la calle de la Paloma«, Paloma's song from El barberillo de Lavapiés
Ana Birsa Krušec began playing the recorder in 2007 at the Koper Music School, Izola branch, with her teacher Dušan Kitič. During her elementary school years she won golden prizes at TEMSIG competitions and international competitions in various chamber music ensembles. She continued her education at the Conservatory of Music and Ballet in Ljubljana under the guidance of Professor Mateja Bajt, where her success continued. She again won two golden plaques and the first prize at the national competition. In June 2022, she graduated with honours from the Academy of Music at the University of Ljubljana under the direction of Professor Mateja Bajt, and is now pursuing her master's degree. Last year she again participated in the TEMSIG Competition and received first prize, 100 points and the prize for the best performance of a composition by a Slovenian composer. During her studies she performs in both internal and public performances as a soloist, or in various ensembles and chamber music groups.  She regularly attends master classes with renowned musicians such as Katharina Lugmayr, Helge M. Stiegler, Anne-Suse Enßle, Matthijs Lunenburg, Stefano Bagliano, and others.
Harpsichordist Eva Dolinšek completed her master's degree with honours in 2015 at the Ljubljana Academy of Music, where she studied with Prof. Egon Mihajlović. As a soloist and chamber musician, she performs on the concert stages of festivals and subscription programmes such as Festival Ljubljana, Imago Sloveniae, Kristalni abonma, Festival L'Estatebarocca, Amicidelle Musica Udine, Grajske harmonije, Zvoki mladosti, Tartini Festival, Simfonicvoices, International Early Music Festival Academia Musicae Antiquae Labacensis in Ljubljana, and Festival Risonanze, among others. She has won prizes at international competitions. In 2021, she released her second CD entitled BAROK II – Pièces de clavecin, the follow-up to her 2016 release BAROK. In addition to her concert activities, she continues her work in the field of early music revival and research by giving lectures, writing scientific papers, and being the artistic director of the Baroque chamber music group "Musica nucis". She is a teaching assistant for harpsichord at the Ljubljana Academy of Music. She regularly deepens her knowledge with the internationally renowned French harpsichordist and conductor Christophe Rousset, and the Italian harpsichordist and expert on Italian Baroque literature, Prof. Enrico Baiano.
Antea Poljak (1994) graduated from the General Gymnasium and the Elly Bašić Intermediate Music School in the Department of Theory and Solo Singing, where she won the Olga Pavičić Prize as a Student of a Generation. In 2018, she completed her master's degree in music education at the Zagreb Academy of Music. Parallel to her studies in Zagreb, she studied at the Graz University of Music and Performing Arts and in 2017 enrolled for solo singing at the Ljubljana Academy of Music in the class of Prof. Matjaž Robavs, where she gained her master's degree in 2022. She participated in numerous competitions, winning first prize and a golden plaque at the Slovenian TEMSIG Competition in 2019 and 2022, First and second prizes at the International Solo Singing Competition in Herceg Novi and Osijek in 2014 and 2015, and second prize at the Regional Competition in Varaždin in 2012. At the Croatian National Theatre in Zagreb, she performed as a soloist in the opera Lisička zvitorepka by Leoš Janaček, produced by the Zagreb Academy of Music, for which she received the Rector's Prize. She also performed the role of the maid in Gian Carlo Menotti's Amelia Goes to the Dance, produced by the Zagreb Academy of Music and the Mala Scena Theatre, and in Handel's opera Agrippina, performed by the Ljubljana Academy of Music. With the Slovenian Chamber Theatre she performed Veveriček posebne sorte, an opera for children by Iztok Kocen, in Cankarjev dom. She has studied with Ruža Pospiš Baldani, Hans Adolfsen, Theresa Plut, Nuška Drašček, Martina Gojčeti Silić, Elisabeth Wilke, and Ariana Bossi, among others. She is not only a singer, but also a music therapist and co-author of the scientific book Muzikoterapija (Music Therapy), which is part of the professional literature at the Faculty of Medicine and the Zagreb Academy of Music.