At yesterday's performance of the work Jules Verne, a chamber fantasia for a percussion trio, three voices, trumpet and piano staged at La Fenice theatre, the general and artistic director of Festival Ljubljana, Darko Brlek, met with the composer of the piece, Giorgo Battistelli.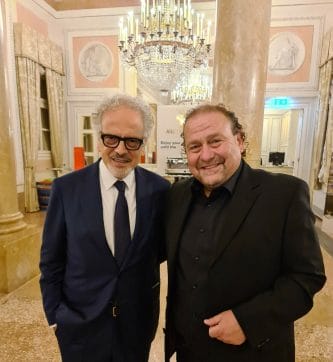 The concert was performed as part of this year's 66th Venice Biennale, and today the composer was presented with a Golden Lion for his life's work. Battistelli is considered one of the most important modern Italian composers. He received the award for his achievements in the field of experimental musical theatre and for his extensive body of operatic works, which have been performed at leading European cultural institutions.
The composer began his professional career in the 1960's with experimental theatre projects that became a vital component of further exploration in the field of audio theatrical performance. Such works include his Experimentum Mundi (1981), with music written for one actor, eight female voices, sixteen tradesmen and a percussionist, which to date has been performed 400 times around the world and is regarded as a key work of instrumental musical theatre.
You can read more here.
We warmly congratulate Giorgio Battistelli on receiving this award!