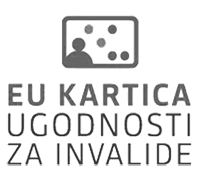 Note: This information pertains to a past event. For the most up-to-date information, please check
our calendar
.
Executive producer: Branislav Cerović
Assistant director: Peter Srpčič
Set designer: Aleksandar Denić
Costume designer: Ana Savić Gecan
Dramaturge: Diana Koloini
Assistant dramaturge: Manca Majeršič Sevšek
Music: Benjamin Krnetić
Lighting and video design: Sonda 13, Toni Soprano Meneglejte
Translator: Zdravko Duša
Proof-reader: Jože Faganel
Cast:
Martha: Nataša Barbara Gračner
George: Branko Šturbej
Nick: Benjamin Krnetić
Honey: Klara Kuk
Who's Afraid of Virginia Woolf?  by Edward Albee (1928-2016) is one of the most famous and widely performed plays of the 20th century. When it first appeared on Broadway in 1962, it upset critics with what at the time was considered brutal language and its harsh dissection of a marriage, but it delighted audiences and sold out 664 performances. The play, whose title is a provocative take on the children's song Who's Afraid of the Big Bad Wolf,  is set on a university campus, in a supposedly genteel intellectual environment, but one which soon reveals its many problems and cruelties. Albee's play was a significant influence on both theatre and film when it was first staged, as well as on how the world was understood, and it has not lost its power with the passing of time. Indeed, its central themes – the need for success, the myth of the happy family with children, the interplay of illusion and truth – perhaps make it more alive today than ever before. Under the direction of Ivica Buljan, four top artists of the middle and youngest generation of Slovenian actors will perform in a production of  Mini teater and Ptuj City Theatre: Nataša Barbara Gračner, Branko Šturbej, Klara Kuk and Benjamin Krnetić.