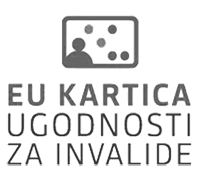 Note: This information pertains to a past event. For the most up-to-date information, please check
our calendar
.
Dramaturg and assistant director: Mišo Mićić
Producer: Vesna Starina
Costume designer and mask: Dominika Monte
Set designer: Darjan Mihajlović Cerar
Stage Manager: Nino Budimirović
Lighting design: David Andrej Francky
Video designers: BEAM TEAM (Stella Ivšek, Anja Romih)
Sound designer: Marko Turel
Coordinator of public relations and digital presence: Katjuša Štingl
Cast:
The Water Man: Jure Kopušar
Urška: Sara Briški Cirman – Raiven
The Professionals: Jose & Maša Tiselj
Waiter: Luka Markus
Friend: Tanja Pečenko
Make-up artist: Aja Kobe
Choir:
Anka Eržen, Jan Marolt, Kaja Gabrovšek, Kaja Jordan, Katja Štern, Lara Božič, Miha Furlan, Neža Kirn, Nina Slavec, Sara Gorše, Sara Košak, Špela Škofič, Tanita Rose, Tanja Srednik, Vesna Potokar, Žiga Bunič
Musicans:
Neisha, Vid Žgajner, Aleš Avbelj, Luka Ivanovič
"Who's followed who? Who's let who into their life?" The tension-filled plot of the modern pop-rock musical The Water Man, with music from one of Slovenia's most prolific musicians, Neža Buh (aka Neisha), follows Urška (Sara Briški Cirman, aka Raiven), a popular young woman and "budding influencer" who is dissatisfied with her current life. Although she reaches the whole of Ljubljana via her social media presence, she wants more. Eager to take the next step, she attends a private event hosted by a charismatic and successful business guru known as the WM (Jure Kopušar). He sells Urška an ambitious dream, but she soon realises that in his world not everything is as it seems. What will happen now?
Conceived as an integrated whole, this project is inspired by tradition but firmly rooted in the twenty-first century and more topical than ever. At its core are the creative team of producer Vesna Starina, writer Ambrož Kvartič, director Sara Lucu and dramaturge Mišo Mićić. Supported by state-of-the-art visuals, the musical uses wit and humour to encourage each and every one of us to reflect on the use and impact of social media. It also differs from other stage productions in its approach to the environment, since all of Dominika Monte's costumes will be made from recycled material. Expect the unexpected!
More dates
23
SARA LUCU, director
NEISHA, composer
AMROŽ KVARTIČ, text
ŽELJKO BOŽIČ & MAŠA KAGAO KNEZ, choreographers