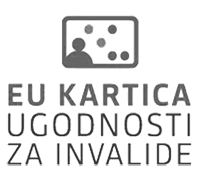 Note: This information pertains to a past event. For the most up-to-date information, please check
our calendar
.
BETI BRATINA, soprano
IRINA MILIVOJEVIĆ, piano
URBAN STANIČ, piano
Programme:
W. A. Mozart: »Ach, ich fühl's, es ist verschwunden« (Pamina's aria from The Magic Flute)
C. Gounod: »Ah! Je veux vivre dans ce rêve« (Juliette's aria from Roméo et Juliette)
G. Verdi: »Caro nome« (Gilda's aria from Rigoletto)
G.Donizetti: »Chacun le sait« (Maria's aria from La fille du régiment)
V. Bellini: »Eccomi in lieta vesta…Oh quante volte« (Giulietta's aria from I Capuleti e i Montecchi)
G. Puccini: »Quando m'en vo'« (Musetta's aria from La Bohème)
G. Donizetti: »Quel guardo il cavaliere…So anch'io la virtù magica« (Norina's aria from Don Pasquale)
***
J. S. Bach: Toccata in D Major, BWV 912
F. Liszt: Piano Sonata in B minor, S. 178
Soprano Beti Bratina commenced voice studies with Barbara Nagode at Ljubljana Vič–Rudnik Music School in September 2015. She began her musical career as a violinist, graduating cum laude from the Ljubljana Academy of Music in 2013. She is a member of the Accadémia Quartet and the RTV Slovenia Symphony Orchestra. She has already given several recitals as a singer and appeared in the premiere performance of Belin, the first Slovene opera, by Jakob Frančišek Zupan (composed in 1780 but lost until 2008). She has attended masterclasses in Slovenia and abroad with such noted teachers as Tatjana Vasle, Marcos Fink and Claudia Visca. She also participates regularly in singing competitions: SGSM Novo Mesto 2017 (second place, second prize), Coetus Cantorum Prebold (first place), Lav Mirski Osijek 2018 (second prize), IMMCC Maribor 2018 (second prize) and TEMSIG 2019 (first place and gold plaque in the highest category).
Pianist Irina Milivojević is making a name for herself in Slovenia's music scene and is among the most sought after chamber musicians of the middle generation. She performs regularly with top Slovene singers such as Marcos Fink, Vlatka Oršanić, Theresa Plut and Pia Brodnik, while her performances with the internationally renowned Croatian tenor Tomislav Mužek, with whom she has been performing since 2009 both in Slovenia and abroad (for example at the Dubrovnik Summer Festival and HGZ Zagreb) have been particularly noteworthy. Having completed piano studies in Belgrade, she came to Slovenia with the intention of studying with Aci Bertoncelj. She enrolled as a postgraduate student at the Ljubljana Academy of music in Bertoncelj's class in 1999 and studied with him until his premature death. She completed her postgraduate studies with Tatjana Ognjanovič. She is currently employed as a répétiteur at Ljubljana Vič–Rudnik Music School and SNT Opera and Ballet Ljubljana.
Pianist Urban Stanič was the winner of the Slovenian selection for the Eurovision Young Musicians competition in 2014 and the winner of the second prize at the final in Cologne. He is currently training with Dubravka Tomšič Srebotnjak at the Ljubljana Academy of Music. He has given several notable concerts over the past two years, including a performance in Cankarjev Dom's Gallus Hall as part of the Slovenian Philharmonic's "Orange" subscription series, a performance of Lucijan Marija Škerjanc's Concertino for Piano and Strings and Matija Bravničar's Divertissement with the Slovene Philharmonic String Chamber Orchestra, another performance in the Gallus Hall with the Symphony Orchestra of the Ljubljana Academy of Music, a performance of Schumann's Piano Concerto in A minor at the Konzerthaus in Berlin and a performance of the first movement of Tchaikovsky's First Piano Concerto with the RTV Slovenia Symphony Orchestra conducted by George Pehlivanian. He has given solo performances at various festivals and concert cycles, including Imago Sloveniae, Ljubljana Festival (Young Virtuosi), Piano FVG and the International Holland Music Sessions. In June 2017 he performed at the opening of the Summer in Old Ljubljana Festival organised by Imago Sloveniae. He has been achieving top results at international competitions for several years. At the national TEMSIG (Young Musicians of Slovenia) competitions in 2013, 2016 and 2019 he scored three gold plaques, three first places and special prizes for the best performance of a Scarlatti sonata, the best performance of the compulsory competition piece and the best performance of a work by a Slovene composer.