8.30 pm (the concert)
8.00 pm (pre-concert conversation)
View video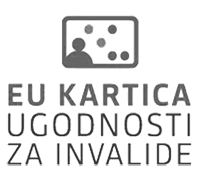 Note: This information pertains to a past event. For the most up-to-date information, please check
our calendar
.
Free tickets for the concert are available at Križanke Box Office.
Nina Šenk has been involved in music since she was a little girl, but she didn't see herself as a composer for a long time, she began by playing the recorder and piano in junior music school, continued as a music theorist, and then decided to study composition
For his composition From the Medieval Garland for Soprano and Accordion, Lojze Lebič chose a large book of songs with the same title, collected and translated by the academician Primož Simoniti
In 2005, Lojze Lebič was elected a foreign member of the arts class of the Royal Flemish Academy of Belgium for Science and Arts
Klemen Leben is an internationally renowned concert soloist, pedagogue, composer and improviser; the main part of his work is classical music, but his qualities have also led to collaborations with artists of other genres, such as Laibach, Jani Kovačič, Slavko Avsenik and others
Programme:
K. Leben: On paths and fairy stories for soprano and accordion
N. Šenk: Auguries of Innocence for soprano and accordion**
U. Rojko: Six quotations of Ivan Cankar for solo accordion*
L. Lebič: From the medieval garland for soprano and accordion
* premiere performance
**first performance in Slovenia
This year's traditional Concert Atelier, which has been held in cooperation with the Society of Slovene Composers since the very beginning of the Slovenian Music Days, will open with a non-standard ensemble and sound combination of soprano and accordion, under the conceptual leadership of Nina Šenk. Contemporary works by members of different generations and aesthetic outlooks will be performed. First, the composer and accordionist Klemen Leben will perform his composition together with the soprano Maria Leben. Leben is working to establish the accordion as a concert instrument, and therefore writes original works for his instrument, collaborating with renowned local and international composers, including Toshio Hosokawa, Matthias Pintscher and Lojze Lebič. Describing Leben's solo recital at the 28th Zagreb Biennial (at which the accordion was heard played solo for the first time in 45 years), Lebič joined the journal Kulturpunkt, which described the performance as the surplus. of the festival, by adding that the "performance was a real splendour". Lebič's composition, From the medieval garland, was premiered at the Concert Atelier in 2014 in an ensemble for soprano and organ. Lebič based the composition on the book Florarium mediaevale, which reflects the composer's archaeological inclination. In this music, he entered into musical dialogue with a past that goes back a millennium and a half, and from which echo quotations from the Gregorian chant Veni creator spiritus.
The composer Uroš Rojko has a special affinity for the accordion – an instrument of many faces – and has dedicated a significant portion of his chamber music to it. His inventiveness in this field testifies to his intuitive improvisational skills, which he translates into compositional procedures. In 1997 he was a guest professor of composition at the International Seminar for Concert Accordion in Saarbrücken. During the years he spent working in Karlsruhe, Freiburg and Ljubljana, he filled his oeuvre with the intoxicating and varied colours of the accordion's sonic texture, as a kind of heir apparent to the German avant-garde. A similar focus on the sensuality of sound in composition guides Nina Šenk's pen. Her new work will also reflect her characteristic idiomatic virtuosity. As the critic Primož Trdan wrote of the composer, she "trusts tradition, the principles of symmetry and balance, but often covers this with bold contemporary writing".
At 8.00 pm, there will be a pre-concert conversation with the authors and artists, which will be moderated by composer Nina Šenk.