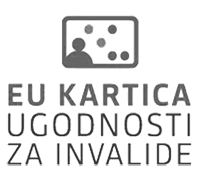 Note: This information pertains to a past event. For the most up-to-date information, please check
our calendar
.
Music and lyrics: Benny Andersson, Björn Ulvaeus
Additional songs: Stig Anderson
Text: Catherine Johnson
The musical Mamma Mia! was originally produced for Little Star in London by: Judy Craymer, Richard East and Björn Ulvaeus, in collaboration with Universal.
Additional material and arrangements: Martin Koch
Publisher: Universal Music Publishing Group
Producer: Jurij Franko
Director: Jug Radivojević
Lyrics translation and adaptation: Tomaž Domicelj
Musical executive: Patrik Greblo
Choreography: Mojca Horvat
Text translation: Živa Čebulj
Scenography: Aleksandar Denić
Customography: Bojana Nikitović
Choirmaster: Tomaž Pirnat
Creative assistant: Branko Đurić – Đuro
Sound engineer: Damir Rapić, Marko Turel
Lighting engineer: Gregor Smrdelj, Event Lightning
Sound: Jernej Černalogar, Damir Rapić
Lights: Gregor Smrdelj, Event Lightning
Technical production: Demo produkcija
Title roles: Alenka Godec, Simona Vodopivec Franko, Damjana Golavšek, Lea Bartha, Gojmir Lešnjak – Gojc, Uroš Smolej, Marjan Bunič, Matjaž Kumelj
The popular musical, Mamma Mia!, which revives the musical legacy of the legendary band, Abba, will finally be staged in Slovenia. Over 54 million thrilled theatre goers and music lovers in more than 40 countries and 170 cities across the world have so far seen this magical love story, which incorporates romantic touches of Greece and its dream-like islands, since its premiere in London's Prince Edward Theatre in 1999.
Under the baton of conductor Patrik Greblo, Abba's legendary hits will be sung in Slovenian at the Križanke Summer Theatre thanks to an excellent translation by the musician, singer and songwriter, Tomaž Domicelj.
Mamma Mia! is presented through special arrangement with Music Theatre International (MTI), 421 West 54th Street, New York, New York 10019 – tel.: (212) 541-4684, www.mtishows.com
Video