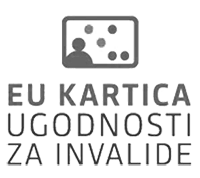 Free tickets for the concert are available at Križanke Box Office.
Jelena Pejić, violin (Serbia)
Sae Lee, piano (Japan)
Victor Teodosiev, horn (Bulgaria)
Angelina Decheva, piano (Bulgaria)
Programme:
R. Strauss: Sonata for Violin and Piano in E-flat major, Op. 18
E. Ysaÿe: Sonata for Solo Violin No. 3 in D minor, Op. 27 "Ballade"
***
W. A. Mozart: Rondo for Horn and Piano in E-flat major, K. 371
E. Bozza: En forêt, for horn and piano, Op. 40
S. Rachmaninoff: Vocalise, Op. 34
V. Buyanovsky: Hispany from Pieces for horn solo, four improvisations (Travelling Impressions)
F. Pavlov: Rondino
Jelena Pejić was born in 1999 in Leskovac, Serbia. She began her musical education at the age of seven at the Stanislav Binički Music School in Leskovac, before starting at the School for Musically Gifted Children in Ćuprija in 2015, where she studied under Milica Mladenović. In 2021 she completed her undergraduate studies at the Ljubljana Academy of Music under Monika Skalar. She is currently in her third year of postgraduate studies, where she is being supervised by Vasilij Meljnikov. Jelena has taken part in a large number of competitions during her studies. She has won two first prizes at the International String Competition in Niš, two second prizes at International String Player Festival Stringfest in Sremska Mitrovica, and two first prizes at the International Classical Music Competition for Young Performers in Pernik, Bulgaria. As the winner of the Pernik competition, she performed as a soloist with the Orpheus Chamber Orchestra. She also received a silver plaque at the 2021 edition of the TEMSIG Competition. In 2011 she received the gift of a violin from the Radiotelevision Serbia cultural programme. As a member of the Big Band at the School for Musically Gifted Children, she played at many festivals in Serbia (BELEF, BEMUS, ARLEMM, "Bolshoi" Festival, etc.) and collaborated with Roman Simović, Stefan Milenković and Dragan Suzuki Džordžević. In 2019 she took part in an orchestral project run by the Gothenburg Academy of Music and Drama in Sweden. In the same year, she successfully auditioned for a place in the international project Norden Orchestra in Lahti, Finland. In 2021 and 2022 she assumed the role of concertmasater of the Symphony Orchestra of the Ljubljana Academy of Music. She also performs with the Orchestra of SNG Opera and Ballet Ljubljana, the Slovenian Philharmonic Orchestra and the RTV Slovenia Symphony Orchestra. Since 2022 she has been employed as first violinist at the Orchestra of SNG Opera and Ballet Ljubljana. In November 2022 she was soloist for a performance of Tchaikovsky's Violin Concerto  with the Slovenian Philharmonic Orchestra. In May 2022 she gave a solo recital as part of the Solo e da camera concert series. As a member of Trio Setsuna and the Astra Piano Quintet, she has appeared at concerts as part of the Solo e da camera, Meet me at the City Hall (Jeunesses Musicales Ljubljana) and numerous other concert series. She has attended masterclasses by a number of well-known names, including Timur Melink, Robert Lakatoš, Vasilij Meljnikov, Wonji Kim Ozim, Miroslav Pavlović and Goran Kentera.
Sae Lee is one of the most sought-after collaborative pianists of her generation. According to Japanese newspaper Mainichi, she is able to captivate audiences "with her ability to interact subtly with musicians, her exceptional proficiency on the piano and her outstanding artistry". After studying at the Toho Gakuen School of Music in Tokyo, Sae Lee graduated with distinction in piano and chamber music at the Paris Conservatory with Michel Beroff and Eric Le Sage. She has won first prize at several competitions, including the Città di Padova and Albert Roussel international piano competitions, and the Fnapec, Carlo Soliva and Cidade de Alcobaça chamber music competitions. She has appeared at the prestigious Piano Enghien Festival in Paris, at the Nevada-Semipalatinsk International Conference sponsored by the Kazakhstan government and UNESCO, and on the Japanese national television programme NHK Classic Club. She has performed as a soloist with the Sofia Philharmonic, the Pleven Philharmonic, the Kansai Philharmonic Orchestra and the Slovenian Philharmonic Orchestra, with which she performed Messiaen's Turangalîla-Symphonie.  She has worked with world-renowned ballet dancers such as Aurélie Dupont (director of the Paris Opera Ballet) and Kevin O'Hare (director of The Royal Ballet, London). She is currently employed at the Ljubljana Academy of Music.
Victor Teodosiev, born into a musical family in 2005, is a third-generation horn player. His grandfather was a member of the Bulgarian Radio Orchestra and his father principal horn player at the Bulgarian National Radio Symphony Orchestra and professor at the National Academy of Music "prof. Pancho Vladigerov" in Sofia. Victor began playing the horn at the age of 12. In 2019 he was accepted into the National Music School in Sofia with the highest number of points of any applicant in his age group; in the same year, he was also invited to play in the European Youth Symphony Orchestra PROGRESSIVE, which featured performers from 11 European countries in that year's European Capital of Culture, Plovdiv. He was also the youngest active participant in the Kroměříž Summer Music Academy in the class of the world-renowned Czech horn player Radek Baborák, the long-time principal horn player of the Berlin Philharmonic. He has received numerous prizes at national and international competitions, and this year he was chosen from among 400 applicants from around the world to become principal horn player of the Concertgebouworkest Young (the international youth orchestra of the Concertgebouw Orchestra).
Angelina Decheva graduated in piano at the National Academy of Music "prof. Pancho Vladigerov" in Sofia. She undertook postgraduate studies at the St. Petersburg Conservatory of Music, after which she moved to the US and completed her conducting studies at Oakland University in Michigan. In the Detroit area she gave solo recitals, and appeared in chamber ensembles with musicians from the Detroit Symphony Orchestra and Michigan Opera Theatre. She is the recipient of many awards at international piano competitions in Italy and Greece, and has performed as a soloist on a number of occasions in piano concertos by Brahms, Rachmaninoff, Tchaikovsky and Beethoven. She is currently teaching at the National Academy of Music "prof. Pancho Vladigerov" in Sofia in the wind and percussion department.
Related events