1. September - 21. September 2023
View video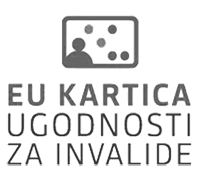 Note: This information pertains to a past event. For the most up-to-date information, please check
our calendar
.
Opening hours of the exhibition (1–21 September):

Monday–Friday:
10.00 am–4.00 pm

Saturday, 2 September:
12.00–8.00 pm
"Nowadays, the main role is played by philosophy – the word. Some art exhibitions nowadays are almost like philosophical meetings. I'm not saying that artists or sculptors no longer know how to make things using their hands. But our mentality is different from what  it was a few decades ago, and mentality also dictates trends in art." (Vojko Štuhec, 2015)
The sculptor Vojko Štuhec (1946, Mala Nedelja–2018, Maribor) graduated from a classical grammar school and then enrolled at the Academy of Fine Arts in Ljubljana despite having no previous training in sculpture. However, he had a great desire to express his creativity with materials, especially marl, which he had been studying and searching for its expressive possibilities since high school. Together with an entire generation of classmates (Boris Prokofjev, Tone Demšar, Negovan Nemec, Milomir Jevtić), he furthered his knowledge under the professors and sculptors Boris Kalin, Drago Tršar, and Slavko Tihec in the final two years at the Academy. The latter was a sculptor from Maribor who brought new materials and a new vision to Slovenian sculpture. He was a professor who had the greatest influence on this generation, and who let them freely explore content, material and form. Like Demšar and Nemec, Štuhec remained within the boundaries of exploring full plastic form, one could say within the framework of the classical, traditionally corporeal and modelling principle, and therefore did not join the conceptual art movement that was then making inroads in the scene. Instead, he realised his creative visions in various materials, which, by their very specificity, dictated or guided his sculptural language. Štuhec's fundamental decision to sculpt figures was also a decision for stylisation, abstraction and a search for the responsiveness of the surface – patina, like form and volume, was also part of his sculpture. He also sought eloquent and constructive relationships between volumes – which play a very important role in sculpture – and for effective placement in space. What was important to Štuhec, therefore, was the material and the capacity of the sculptor's hand to ennoble it, to transform it, polish it, and model it, to give it a patina, to be able to find and realise the relationships between surface and volumes, and it was not only the initial thought, idea, word – or as he himself said, philosophy – that was important to him. Throughout the creative process, he was concerned with the fundamental sculptural values historically introduced by perhaps the greatest modernist sculptor, Henry Moore, who transformed the human body into a recognisable play of stylisation and rounded, abstracted forms. Štuhec was always interested in the female figure, and decided he would specialise in this subject while at the Academy. It must, however, be stressed that the female figure – which accompanied him more or less throughout his career – always depended on the choice of material, which dictated the sculptor's confessional language – sometimes more inclined towards the figure, sometimes more towards abstract solutions.
In Vojko Štuhec's work we can clearly trace his response to the search for formal harmonies in various classical materials, and thus the possibilities that these materials offer the sculptor to express his many artistic visions convincingly and within the boundaries of artistic laws. His opus also shows that the sculptor liked to combine different materials and sought their reactions, especially harmonies, because he was always looking for an artistically refined and aesthetically accentuated solution that addresses the viewer with elements such as colour, volume, surface and composition. Vojko Štuhec was a sculptor whose sculptural language evolved in a meaningful way into something recognisable and subtly appealing, always interesting and topical.
Štuhec's oeuvre is rich, containing more than five hundred sculptural works, including public sculptures, created over four decades. An overview of his solo and group exhibitions is also impressive. This year, for the first time, we are presenting his oeuvre posthumously in a selection of works that mark his creative period from 1973 to 2007. Like most artists of his generation, Vojko Štuhec worked in cycles, which sometimes developed into two- or even three-part cycles, depending on the material he was working with at the time. His first cycle was created at the Academy in the early 1970s and developed over several years, simplifying and synthesising figurative female forms in various materials, most notably in stone and wood, where the play of volumes and smooth surfaces stands out, evoking female curves and the perception of the figure as we know it from prehistoric times (Organic Form,  1974, wood; Organic Form in white, 1976, patinated aerocon). At the end of the 1970s and in the early 1980s, a cycle called Phytoliths  emerged, which developed in two directions to form both cores and reliefs. The Phytoliths  cycle, a cycle of petrified flowers and plants that evolved into compositions with figural and organic themes, is one of his most notable cycles, prompted by the nature of the material (patinated plaster), which highlighted his exceptional gift for working the material as if it were something else, evoking qualities of solidity, massiveness and indestructibility, as though the sculptures were made of stone or granite (Great Phytolith, 1977, patinated plaster; Phytolyth-relief II, 1980, mixed media). He also realised this cycle in two public works – the fountain at the three ponds, which was named Gobice,  in Maribor's City Park (1980), and a monumental relief in the underpass on Meljska cesta in Maribor (1984).
In the mid-1980s, Vojko Štuhec returned to the figure again and created a larger cycle in which the sculptor's sense of abstraction of forms was brought to life – a sensitive dialogue of masses that merge into semicircular, rectangular and square shapes with softly rounded edges, where a small accent and the choice of position emphasise the abstracted form (Reclining Figure VII,  1984, patinated aerocon; Reclining Figure II,  1984, patinated aerocon). The patinated aerocon Zloženke  were also created in the same period. They consist of elegant verticals placed side by side, forming an intriguing three-dimensional shape that evokes associations with the plant world (Zloženka VI,  1985/86, patinated aerocon). Štuhec's next cycle, in wood and metal, was very imaginative and visually convincing. The sculptor played with the details on the surface, thus emphasising his conceptual starting points related to the figure (Seated Figure,  1988, wood, brass), but also to the already selected objects in the service of man (Sarcophagus II,  1989, mixed media). The year 1991 was also inspirational, and Štuhec's works were stimulated by the political events that brought great changes to people's lives. This period saw a clay cycle (Apocalypse,  1991, terracotta) in which he modelled groups of figures in the manner of croquis, as well as works in wood, stone or metal, in which he again abstracted the forms, searching for a composition that worked convincingly and aesthetically (Ares' Head,  1991, wood, terracotta). Two artistic principles, the figurative and the abstract, were thus expressed simultaneously, meaning that in Vojko Štuhec's work this transition is very natural, dependent on an inner impulse, an appeal to sensory response and a momentary vision. Just as he moved between and chose different materials with ease and great creative freedom – being equally skilled in all of them – he was also close to figural sculpture, which does not feel realistic, but is highly stylised and transformed with volumetric accents, easily passing from an associative form into pure geometrics or an abstract play of individual sculptural elements.
His most important cycle was created in 1995 under the title Odin Saga (Memories of the North),  and it developed in three directions: zoomorphic and anthropomorphic forms, and forms derived from horns, the ribs of old Viking ships or spurs, in which he reused wood and metal, but the wood no longer has its natural appearance, but is transformed and polychromed. In this cycle, the sculptor carefully shaped the elements into soft forms, assembling and patinating them, and seeking a dialogue between the individual elements that emphasises the aestheticisation of the forms (Odin Saga – Horns with Blue,  1995, iron, wood; Odin Saga – Horns with Red,  1995, iron, wood). From 2005 to 2007 he created a body of work with abstract motifs. During this period, he made the surprising decision to try completely different approaches, using marble and metal, which he saw as equal carriers of his message, experiencing them in an abstracted vision as a play of their reactions, acceptances and rejections, as a game of two cold materials, the metal being more manageable in his hands and allowing him to play with soft lines, while the stone remained solid in its supporting role and stayed within the confines of geometric shapes. He named this cycle Composition (Composition,  2005, metal, marble).
Vojko Štuhec lived and worked in Maribor, where he left an indelible mark on the wider Štajerska region with his exhibitions, public works and pedagogical efforts. He was a little less present in other areas, so this exhibition, which presents a cross-section of the development of his creative principles, is an excellent opportunity to enter his sculptural world, which speaks to us eloquently with some of his most compelling sculptures. May it be a step towards getting to know our sculptural heritage, in the hope that its value will grow again in our eyes, also in light of the sculptor's wish: "We are still waiting for this return in fine art. Of course, there is no point in all of us going back to the old days and painting portraits, and so on. But the content is important. It is important that every artist has their own content, their own style, and that they invest themselves in the artwork. Even in materiality, in classical fine art, these possibilities abound." (Vojko Štuhec, 2015)
dr. Nelida Nemec