View video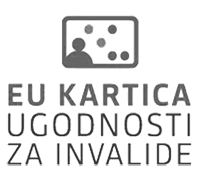 Note: This information pertains to a past event. For the most up-to-date information, please check
our calendar
.
Programme:
J. S. Bach, arr. D. Nikčević: Ave Maria
I. Albéniz, arr. D. Nikčević: Suite española No. 1, Op. 47, 5th movement "Asturias"
D. Cimarosa, arr. D. Nikčević: Sonata No. 29, Larghetto
W. A. Mozart, arr. D. Nikčević: Sonata No. 11 in A major, K. 331, 3rd movement "Rondo alla Turca"
F. Tárrega: Recuerdos de la Alhambra
F. Sor: Etude, Op. 6, No. 11
M. Ravel, arr. D. Nikčević: Boléro
S. Bulatović: Under the Hill-side
D. Nikčević: Dreams
S. Bulatović: Balkan
D. Nikčević: Energy
S. Bulatović: Daybreak Yet to Come
S. Bulatović: Fusion
D. Nikčević: Celebration
S. Bulatović: Acrobat
D. Nikčević: Orient
D. Nikčević: Evening at Home
The internationally renowned guitarists from Montenegro, Srđan Bulatović (Doctor of Performing Arts in Classical Guitar) and Darko Nikčević (Flamenco guitarist and Master of Audio Technology), are appreciated for their exceptional virtuosity and exciting performances, providing a unique blend of Balkan rhythms and Mediterranean, Middle Eastern and other influences. For 30 years they have been performing to audiences at home and abroad, presenting original compositions as well as the classical guitar canon. Their concerts at New York's Carnegie Hall in 2016 and 2017 were particularly successful. Their compositions are diverse in character, style, technique and rhythm, but they are united by a common thread of Montenegrin traditional music, while also showing strong influences from film music, world music and contemporary musical currents. The concert will feature a stylistically and temporally broad range of guitar repertoire, including an adaptation of the Baroque composer Bach, Classical excerpts from Cimarosa, Mozart and Sor, Romantic works by Albéniz and Tárrega, a popular early 20th century work by Ravel, and a host of original compositions.