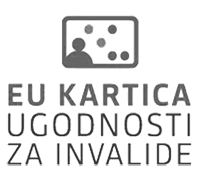 Note: This information pertains to a past event. For the most up-to-date information, please check
our calendar
.
Author project: Barbara Ribnikar, Gregor Čušin, Saša Vollmaier, Silence and Anton Podbevšek Theatre production team
Translator: Jože Udovič
Music: Duo Silence
Video designers: Iztok H. Šuc, Gašper Vovk
Costume designer: Nataša Recer
Piano: Primož Hladnik
Cast:
Barbara Ribnikar, Gregor Čušin
Co-production: Anton Podbevšek Theatre in collaboration with Cankarjev dom
In the stage version of Letter to His Father, Kafka's singularity is expressed in three parts: a male voice (Gregor Čušin), a female voice (Barbara Ribnikar) and a musical accompaniment that gives temperature to the text, pianist (Primož Hladnik). In the letter, Kafka performs a Freudian evidentiary analytical procedure on the Father's dominance, which is a super-determination of Franz in his formation and subjectivisation, and just like the Author (My writing was all about you; all I did there, after all, was to bemoan what I could not bemoan upon your breast…). The letter is a kind of self-critical dialectical intimism in which the tactile world of Kafkaesque metaphors is unfurled (e.g. about the sun, stairs, map, roof, prison, etc.), for Kafka, as Max Brod said somewhere, wrote with images, not concepts. This staging is therefore based on a reflection of Kafka's basic and primary intersubjective relationship with the Father, from an analysis of shades and insights into the power of the Father's superego. The stage play articulates the Letter's dialectic nature – especially with regard to their relationship regarding choice of career, Judaism, writing and marriage, in which Kafka saw the potential of an emancipatory means. The theatrical nature of this Letter is connected with analysis and narrative, which all three characters on the stage of The Two search for in the shades of this exceptional autobiographical work, which presents many traits that we can identify with – on either side.