View video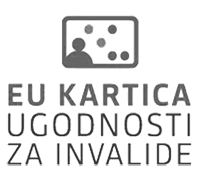 Note: This information pertains to a past event. For the most up-to-date information, please check
our calendar
.
Programme:
T. Albinoni: Sonata for Violin and Basso Continuo in A minor, Op. 6, No. 6
G. Tartini: Aria cantabile from Sonata for Violin in D major, B.D4
G. Tartini: Allegro assai from Sonata for Violin in B minor, B.h1
G. Tartini: Largo andante iz Koncerta za violino v A-duru, D. 96
J. S. Bach: Tokata v e-molu, BWV 914
C. Balbastre: La De Caze, La D'Héricourt, La Suzann from the First Book of Pieces for the Harpsichord
A. Marcello: Adagio in D minor for Violin and Harpsichord
***
A. Schnittke: Suite in the Old Style for Violin and Harpsichord, Op. 80, 3rd, 4th and 5th movements
A. Pärt: Passacaglia (version 2003)
M. Lazar: Obscure Dance, Sicilia, Love Story, Burlesque from 10 Pieces for Violin and Harpsichord
Violin and harpsichord lovers can look forward to an interesting evening with Eva Dolinšek and Vasilij Meljnikov. The harpsichordist Dolinšek is active in reviving and researching early music, and performs numerous solo and chamber concerts, holds expert lectures and writes academic articles. In her home town, she is the artistic director of the Baroque chamber group Musica nucis. She regularly attends harpsichord masterclasses, and participates in the summer schools of various renowned professors. The violinist Meljnikov has performed as a soloist and as a member of chamber ensembles on many major concert stages, concert cycles and festivals in Slovenia and abroad. Teaching has always been an important part of his work, as he is employed as an assistant professor and associate professor at the Academy of Music in Ljubljana. Many of his students have won prizes in national and international competitions, and they frequently perform on concert stages, and are soloists with various orchestras. The repertoire will be Baroque-inspired but varied, including early music by Albinoni, Tartini, Bach, Balbastre and Marcello, 20th-century works by Schnittke, and slightly more recent works by Pärt and the Slovenian composer Lazar.