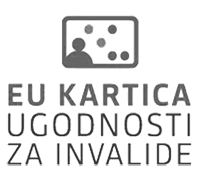 Free tickets for the concert are available at Križanke Box Office.
1st Violins
Nikola Pajanović, concertmaster
Tjaša Klanac, concertmaster
Teja Brenčič
Lara Primožič
Timotej Willewaldt
2nd Violins
Laura de Wolff
Lana Savič
Laura Calligaris
Aleksandar Vojneski
Violas
Patricija Malovrh Mlačnik
Manca Kosmač
Rebeka Skok
Cellos
Sara Čano
Peter Kaiser
Žan Beljan
Programme:
W. A. Mozart: Sinfonia Concertante in E-flat major, K. 364 (for Solo Violin and Viola) 
P. I. Tchaikovsky: Variations on a Rococo Theme, Op. 33 (for Solo Cello)
J. Sibelius: Impromptu, Op. 5
***
T. Slakan: Strigendo for String Orchestra*
B. Britten: Simple symphony, for string orchestra, Op. 4
*premiere performance
The Camerata Laibach String Chamber Orchestra is not only young in terms of existence but also in terms of the age of its members, being made up of secondary and post-secondary students of music under the artistic direction of Aleksandra Čano Muharemović. The orchestra held its inaugural concert in January 2018 at Ljubljana Town Hall, where it was also officially founded. Throughout its existence, it has operated under the aegis of the Society of Academy-Trained Musicians. In May 2019 it took part in the international AKORDEON ART Plus Competition in Sarajevo, impressing the jury, winning first prize in its category and being crowned competition laureate after amassing 98 points out of a possible 100. This was followed by high placings at international competitions such as the Rudolf Barshai International Strings Competition in St Petersburg (first prize), the Rocky Mountain Music Competition in Toronto (second prize), Astana Stars in Nur-Sultan, Kazakhstan (grand prix), and the Idrijska Čipka International Competition (grand prix / competition laureate). In 2020, at the invitation of the organisers of the Nei Suoni Dei Luoghi Festival, the orchestra performed at Teatro Verdi in Gorizia; they have also organised independent concerts in Ljubljana, Trieste and Ilirska Bistrica, and been regular guests in Radovljica since 2018. The orchestra's repertoire is highly diverse, ranging from Baroque, Classical and Romantic music to the works of contemporary composers. They are particularly supportive of the latter, and also enjoy playing the works of young Slovenian composers.