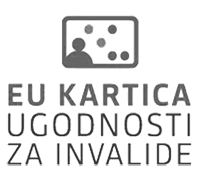 Note: This information pertains to a past event. For the most up-to-date information, please check
our calendar
.
---
Beauty and the Beast is an American musical romantic fantasy animated film from 1991
The choreographer Leo Mujić is an artist with an intriguing contemporary style, in which he skilfully combines modern and classical ballet expressions, thus attracting the attention of many ballet theatres around the world
In recent years, he has made a name for himself as the creator of numerous acclaimed full-length narrative ballets, including A Midsummer Night's Dream, Anna Karenina, Scheherazade and Her Stories, Dangerous Liaisons, Orpheus,  and  Pride and Prejudice, among others
The Komedija Theatre specialises in musicals; Yalta  (1971) and the first Croatian rock opera, Gubec-beg  (1981), both premiered there
Music: Alan Menken
Lyrics: Howard Ashman, Tim Rice
Book author: Linda Woolverton
Director of the original production: Robert Jess Roth
Original producer: Disney Theatrical Productions
Dialogue translator: Ivanka Aničić
Lyrics translators: Vanda Vujičić Šušnjar, Dražen Bratulić
Assistant director and dramaturge: Balint Rauscher
Set designer: Stefano Katunar
Costume designer: Manuela Paladin Šabanović
Lighting designer: Aleksandar Čavlek
Sound designer: Mario Romić
Chorus master: Davor Kelić
Concert master: Melita Šafran
Répétiteur: Tomislav Parmać
Musical producer: Josip Cvitanović
Assistant set designer: Paola Lugarić
Assistant costume designers: Eva Karakaš Bedrina, Tihana Cizelj
Assistant choreographer for ballet and ballet master: Tina Vrtar Stipić
Assistant choreographer for soloists and ballet master: Mladen Mordej-Vučković
Assistant choreographer for choir and ballet master: Dejan Jakovljević
Cast:
Belle: Vanda Winter / Buga Marija Šimić
Beast: Igor Drvenkar / Ivan Glowatzky / Neven Stipčić (student)
Gaston: Fabijan Pavao Medvešek / Matko Knešaurek
Lumière: Dražen Bratulić / Đani Stipaničev
Din Don: Goran Malus / Igor Mešin
Mrs. Chamomille: Renata Sabljak / Jasna Bilušić
Lefou: Ognjen Milovanović / Jan Kovačić
Maurice: Adalbert Turner / Ervin Baučić / Adam Končić
Babette: Mila Elegović / Danijela Pintarić
Primadonna Grande Bocca: Vlatka Burić Dujmović / Sandra Bagarić
Crumb: Ruben Carović / Vatroslav Hrelec / Mihael Kokot / Adriana Klačar
Monsieur D'Arque: Filip Hozjak / Neven Stipčić
Stupid girls: Lana Blaće, Kristina Habuš, Irena Raduka
Twin 1, Salt: Marta Simikić
Twin 2, Pepper: Hana Samardžić
Also performing are Orchestra, Choir and Ballet of Komedija Theatre, Zagreb
When the animated film Beauty and the Beast  was released to widespread acclaim, critics immediately saw its Broadway potential. It thus became Disney's first animated film to be turned into a Broadway musical. All eight songs from the film were reused in the work, and the composer Alan Menken composed six new songs with the help of librettist Tim Rice, while the screenwriter Linda Woolverton adapted and expanded the story to give it even more complex characterisation. Beauty and the Beast  is the famous love story of Belle, a beautiful girl from a provincial town, and the Beast, an arrogant prince who is magically transformed into a monster as punishment, and forced to learn to love and be loved. In collaboration with Disney and Music Theatre International, Komedija Theatre, Zagreb (founded in 1950 and specialising in musicals) has revived this romantic–fantasy musical directed and choreographed by Leo Mujić, with musical direction by Krešimir Batinić and Davor Kelić. Critics have enthusiastically hailed it as a playful, dynamic and witty interpretation of the Disney classic – a spectacle not to be missed by fans of musicals.
The musical will be performed in Croatian with Slovenian and English subtitles. The performance, including one intermission, lasts 150 minutes.
More dates