Devil's Courtyard is the most picturesque of the Križanke venues, and is distinguished by a built- in network of lights that create the marvellous illusion of a starry sky.
Use/Program: chamber concerts, smaller theatre performances, receptions, press conferences, business meetings, parties, weddings …
Number of seats: 100
Standing room capacity: 150
Total area: 143 m2 (11 x 13 m)
Basic rate: €1,430 per day; short lease for up to five hours €610
Open for visitors every working day between 10.00 am and 3.00 pm. Entrance fee is 1,00 EUR with preliminary visting announcement.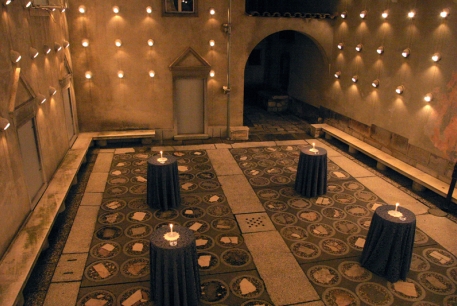 Contact for information and booking

Tel: +386 (0)1/241 60 12
info@ljubljanafestival.si
Tailored to your need

The premises can be fully equipped with audiovisual equipment and facilities, flexible lighting, wireless internet access and, upon request, with a stage, piano, conference tables, various seating/ table arrangements or any other equipment you may require. Also available is a changing room, a foyer for registration (if required), and a space in an enclosed outdoor courtyard for smokers.