A gem from the past…
Križanke occupies the site of a former 13th century monastery complex that originally belonged to the German Order of the Knights of the Cross and was renovated through the years by a number of Renaissance architects. Between 1952 and 1956 Križanke was entrusted to the hands of Jože Plečnik, whose modern approach to architecture had left a significant mark in the centre of Ljubljana already in the 1920s and 1930s. Plečnik created a unique setting for arts events; Anton Bitenc and Viktor Molk continued his work, transforming the monastery gardens into an open-air summer theatre.
Thus, Ljubljana acquired a unique theatre boasting excellent acoustics in the very heart of the city.
---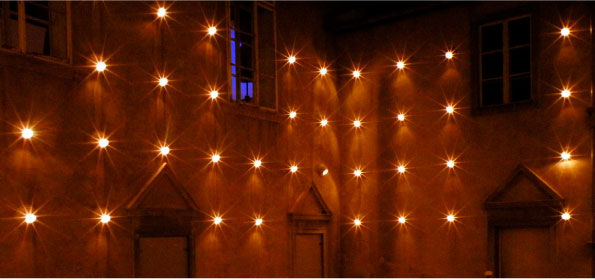 … for an unforgettable today
Anyone who has ever set foot in Križanke knows there is a special, mysterious energy at work here.
The unforgettable beauty of the venue leaves a lasting impression on anyone resting their eyes on this remarkable architectural gem. Whether a visitor of the Ljubljana Festival events or simply a casual passer- by, this is a place where everyone feels at ease.
Now, this beautiful setting of the Križanke venue is available for you to enchant and captivate your guests.
---
More then you can wish for
Križanke is much more than just a summer theatre. In addition to its fascinating history and unique architecture it is distinguished by its location, which provides an intimate haven in the very midst of the city's urban hustle and bustle.
Križanke is therefore a perfect venue for any kind of gathering:
• performances, exhibitions, fashion shows and concerts,
• lectures, round tables and seminars,
• press conferences, product launches and media events,
• business meetings and receptions,
• parties, weddings, club parties, sports events and casual get-togethers.
Knight's Hall (Viteška dvorana), Devil's Courtyard (Peklensko dvorišče), Križevniška Church (Križevniška cerkev), the Grand Foyer (Preddverje), the Pergola or the Summer Theatre – any and all can serve as the venue for your next event.
These settings, still breathing rich stories of the past, blend with the present to create an unforgettable story for you and your guests.
Our experienced team of experts provides comprehensive solutions in the planning, preparation and organisation of your events.