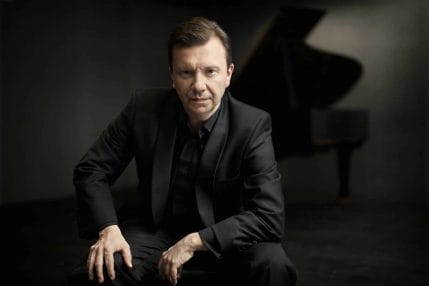 Born into a distinguished musical family in St. Petersburg, Russia, the pianist Evgeny Sinaiski has carved a unique niche as one of the most sought after and highly respected chamber music partners and pedagogues in Europe.
A professor of chamber music and official accompanist at the Vienna Conservatoire, Mr. Sinaiski also leads a duo class at the Folkwang Hochschule in Essen, Germany. He collaborates with many important musicians of our time, such as Herman Krebbers, Boris Kuschnir, Shmuel Ashkenasi, Helmut Zehetmair, Hatto Beyerle, Vadim Gluzman, Stephan Pikard, Latica Honda-Rosenberg, Jens Peter Maintz, Alexander Huelshoff, Alexander Zemtsow, Michael Kugel, Ivan Monigetti and Kirill Rodin, in both concerts and masterclasses around the world.
Mr. Sinaiski has performed as a soloist with the Moscow Philharmonic Orchestra, Latvian State Chamber Orchestra and Bolshoi Theatre Orchestra of Minsk. He appears regularly at the most important venues on the continent, including Vienna's Musikverein and Konzerthaus, Concertgebouw in Amsterdam, Tonhalle in Dusseldorf, Laeiszhalle in Hamburg, Herkulessaal in Munich, as well as Brussels' Palais de Beaux-Arts, Moscow's Tchaikovsky Hall and Mariinsky Theatre in St. Petersburg. In 2008 he has made a successful debut as producer and pianist at Frankfurt's Alte Oper, and in 2010 appeared for the first time at the Salzburg Festival.
Evgeny Sinaiski is actively performed and teaching in Asia. Since 2016 he has regularly appeared at the Singapore Violin Festival as a partner pianist. He made his debut in Tokyo Bunka Kaikan Hall in 2016, followed by performances in 2018 in the Forbidden City Hall in Beijing and the Symphony Hall in Shanghai. He has also given masterclasses at the China Conservatory (Beijing) and Jinang University of Arts.
Sinaiski has won prizes at international competitions such as ARD in Munich, Shostakovich Competition in Hannover and contests in the Netherlands, Latvia and Russia. His recordings can be heard on releases from the Gramola label, as well as in broadcasts on the BBC, ORF, Bavarian Radio, and radio stations in Italy, Latvia, Russia and Slovenia, among many others.
A dedicated educator, Evgeny Sinaiski is a faculty member and staff pianist of such distinguished masterclasses as those held at the Salzburg Mozarteum Summer Academy, Bavarian Music Academy, Festival Les Arcs in France and "Villa-Musica" in Germany. In addition, Mr. Sinaiski has assumed the role of official pianist at the Singapore, Wieniawsky and Lipizer International Violin Competitions. Between the years 2002 and 2010 he led the chamber music class at the Rimsky-Korsakov Conservatoire in St. Petersburg, and served as a coach pianist at the UDK Berlin.